Harakiri For The Sky - Mære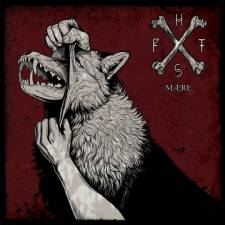 De Oostenrijkse formatie Harakiri For The Sky heeft zich in amper tien jaar tijd weten op te werken tot een van de absolute vaandeldragers van de post-black metal. De groep van het tweetal Matthias Sollak (alle instrumenten) en V. Wahntraum (vocalen) is immers behoorlijk populair geworden. Als het eremetaal wordt ingenomen door Alcest (goud) en Deafheaven (zilver), komt Harakiri For The Sky minstens in aanmerking voor brons. Het zijn vooral de fantastische, van emotie zinderende albums
III: Trauma
(2016) en
Arson
(2018) waarmee dit duo zichzelf op de kaart heeft gezet.
Met name laatstgenoemde langspeler ontpopte zich tot een waar meesterwerk. Rijke, gedetailleerde composities vol emotionele leads en tranentrekkende tremoloriffs, met de nodige weltschmerz aan elkaar gebulderd door Wahntraums doorleefde strot. Een meesterwerk van melancholische bitterzoetheid. Mijn verwachtingen voor Mære zijn dan ook hooggespannen, zeker als blijkt dat niemand minder dan Neige (Alcest) een vocale bijdrage levert in het nummer Sing For The Damage We've Done. Dat moet voor de band toch als erkenning van de grootmeester in het genre aanvoelen.
Toch duurt het lang voordat ik Mære op waarde kan schatten. De eerste luisterbeurten monden uit in een teleurstelling. Alle ingrediënten voor een goed album zijn aanwezig. Harakiri For The Sky borduurt voort op zijn formule van uitgesponnen 'blackmetalsmartlappen': lange, emotioneel geladen tracks met pijnlijk eerlijke teksten vol zelfbeklag, als altijd voorzien van gevoelige tremoloriffs en beladen akoestisch getokkel. Qua composities zit het album wederom buitengewoon knap in elkaar. Er zijn weinig bands die zo gemakkelijk vloeiend lopende en avontuurlijke tracks van een gemiddelde lengte van ruim acht minuten kunnen pennen. Harakiri For The Sky slaagt daar weer met vlag en wimpel voor.
Wat is dan het missende puzzelstukje? Voor mij is dat de afwezigheid van een emotionele connectie met de nummers. Dat is uiteraard hartstikke subjectief en persoonlijk. Maar toch: daar waar de band me met composities als Calling The Rain en The Graves We've Dug tot tranen toe weet te ontroeren, raken de tracks op Mære me niet op dezelfde manier, ook al zijn alle voorwaarden aanwezig en zitten met name I, Pallbearer, Sing For The Damage We've Done en Silver Needle // Golden Dawn vol zeggingskracht. Daar staat tegenover dat de band ditmaal wel érg uitgesponnen te werk gaat. De totale speelduur van ruim tachtig minuten blijkt te veel van het goede. Wat mij betreft hadden Three Empty Words en Once Upon A Winter bijvoorbeeld achterwege mogen blijven, ook al zijn die tracks nog steeds bovengemiddeld.
Hoewel Mære lang aanvoelde als een teleurstellend album, ligt dat uiteindelijk vooral aan mijn eigen onrealistische verwachtingspatroon. Wie middels deze plaat voor het eerst kennismaakt met Harakiri For The Sky, hoort goede, enerverende post-black, die met kop en schouders boven de overvloedige concurrentie uitsteekt. Voor wie op een nieuw meesterwerk van een van zijn favoriete bands hoopt, is 'goed' echter niet perse goed genoeg.
Tracklist:
Disc 1
1. I, Pallbearer
2. Sing For The Damage We've Done
3. Us Against December Skies
4. I'm All About The Dusk
5. Three Empty Words
Disc 2
1. Once Upon A Winter
2. And Oceans Between Us
3. Silver Needle // Golden Dawn
4. Time Is A Ghost
5. Song To Say Goodbye (Placebo-cover)

Score: 80 / 100

Reviewer: Rik
Toegevoegd: 21 juli 2021
Meer Harakiri For The Sky: