Panchrysia / Iconoclasm - The Ultimate Crescendo Of Hell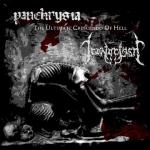 Dat Belgen black metal kunnen maken is al lang bekend. Twee van de bekendere Belgische bands, te weten Panchrysia en Iconoclasm, besloten in de vorm van de split cd
The Ultimate Crescendo Of Hell
hun gitzwarte haat eens gezamenlijk op de mensheid los te laten. Iets dat zij absoluut niet onverdienstelijk doen.
Het eerste deel van de split wordt ingevuld voor Panchrysia. Een band die ik ter vergelijking zou willen noemen is Satyricon ten tijde van Volcano. Effectieve koude riffs in een kil en lekker arrogant jasje. Ook de live vertolking van het nummer Angst komt zeer goed uit de verf.
Het tweede gedeelte van de split wordt ingevuld door Iconoclasm. De band was mij bekend van hun album Iconoclastic Warfare, waar de band mij aangenaam verraste met een heerlijke pot black metal die heel veel leek op bands als Immortal en Marduk. De band gaat ook op deze split tekeer als een stel berzerkers; mid-tempo lijkt een vies woord. Een verandering lijkt echter dat er meer death metal riffs tussen al het black metal geweld geweven zijn..
The Ultimate Crescendo Of Hell is een plaat vol lekker doorraggende black metal. Beide bands vinden het wiel zeker niet opnieuw uit, maar voor een avond zwart geweld is dit een erg lekker schijfje.
Tracklist:
Panchrysia
1. The Ultimate Crescendo Of Hell
2. A Filthy Crusade
3. Stray Down
4. Angst (Live)

Iconoclasm
5. Hellmouth
6. Boadicae
7. No Pity... No Fear
8. Of Nothingness
9. Rebel Of Hate

Score: 75 / 100

Reviewer: Jan
Toegevoegd: 20 januari 2007
Meer Panchrysia / Iconoclasm:
Panchrysia / Iconoclasm - The Ultimate Crescendo Of Hell
Reactie van Fred op 03-10-2007 om 13:02u
Score: 95 / 100
Black Metal is springlevend...
Deze band is daar een van de vele bewijzen van...
Support true black metal!!