Mythlorian - The Cruelty Machine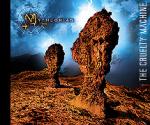 Na het zeker niet onaardige "Shadow Sun" is de Nederlandse band
Mythlorian
op de valreep van 2005 terug met een nieuw werkstuk. Een EP met 3 nieuwe nummers en wat multimedia is hetgeen wat we hier in handen hebben.
Er hebben ook wat veranderingen plaatsgevonden bij de band en de voornaamste daarvan is wel dat er in de persoon van Tom Heijnen (ex-Conquestador) een nieuwe drummer is gevonden.
Aangezien hij net na de opnamen bij de band kwam, is zijn drumwerk nog niet aanwezig op het schijfje. Originaliteit hoeven we niet te verwachten, maar qua spel en muziek valt er voor liefhebbers van melodische vlotte death metal genoeg te genieten. Opvallend is dat de riffs een stuk zwaarder zijn en het geheel productioneel gezien minder clean klinkt dan de voorganger. Overigens overstijgt men productioneel gezien het demo niveau niet helemaal, maar dat vergeven we de band gemakshalve maar even, vanwege het goede songmateriaal.
Een sterke EP dus van Mythlorian en men doet absoluut niet onder voor de oude In Flames of een dergelijke Zweedse band. Hier is echter de agressie en de power nog wel aanwezig en dat kan niet gezegd worden van de meeste melodieuze death metal bands vandaag de dag. Hoewel er dus nog wel enkele kinderziektes in zitten zoals de ietwat eentonige zang en het vrij matig geproduceerde drumgeluid, heeft de band toch weer vooruitgang geboekt ten opzichte van de voorganger.
Prima EP.
Tracklist
1. World: Unknown
2. Transcript of Lies
3. The Cruelty Machine
*4. The Myth Vid (Multimedia gedeelte)
Score: 78 / 100

Reviewer: Jeroen
Toegevoegd: 29 december 2005
Mythlorian - The Cruelty Machine
Reactie van Ramon op 28-01-2007 om 18:24u
Score: 80 / 100
Vette muziek!! De productie is wat minder maar als je ze live aan het werk heb gezien dan pas weet je hoe ze echt zijn! superperformance en t zijn gwoon toffe gasten!