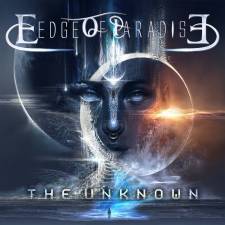 Het heeft even geduurd, maar sinds Edge Of Paradise bij Frontiers Music tekende in 2019, gaat het crescendo voor de melodieuze rock/metalformatie. Vanaf de oprichting in september 2011 werd er veel getourd, maar pas toen de groep voet aan land kreeg in Europa (inclusief de steun van het Italiaanse label) zijn er veel ogen gericht op het in Verenigde Staten gevestigde kwartet.
Met elke release heeft Edge Of Paradise stappen in de goede richting gezet. Ook The Unknown is weer een stap voorwaarts. Mede dankzij de inspanningen van producers Howard Benson (Halestorm, Seether, Black Stone Cherry), Mike Plotnikoff (Halestorm, Three Days Grace), technicus Neil Sanderson (Three Days Grace) en Jacob Hansen (mix) klinken de elf tracks als een klok. De collectie is zwaarder, sterker, dynamischer, voller en cinematischer dan het voorgaande studiomateriaal.
Dat filmische hoor je bijvoorbeeld goed terug in het titelnummer. Zo is er in die track tot een paar keer toe een goede spanningsopbouw. De elektronische en symfonische elementen zijn zeer effectief ingezet en ook de gitaarpartijen voegen sfeer aan het geheel toe. Een erg sterke en karaktervolle track is het resultaat. In meerdere nummers (You Touch You Die en het industrial One Last Time) komt het bioscoop-effect terug, maar nergens zo effectief als hier.
In veel andere tracks rocken de Amerikanen erop los. Of het nu de southern rock in My Method Your Madness, de melodieuze punkrock in Tidal Wave of de gothic rock in You Touch You Die is, het is heerlijk meedeinen met het ritme. Elk nummer heeft z'n eigen cadans. De ene keer is dat een zwierige driekwartsmaat (Believe), de andere keer (in False Idols en Digital Paradise) is het een wisseling van een galop en een heavy groove. Hoewel de songstructuren veel op elkaar lijken, treedt er daardoor niet snel verveling op.
Zangeres Margarita Monet is de ster van het album. In iedere track imponeert ze met haar hoge uithalen en memorabele refreinen. Ze zingt wat steviger dan op het vorige album, wat minder zwoel en fluisterend. Toch hoeft ze de kar niet alleen te trekken, want Dave Bates komt regelmatig met zijn breakdownriffs en gitaarsolo's en in Tidal Wave is het toetsenwerk onderscheidend.
Edge Of Paradise heeft iets onweerstaanbaars. Dat zal voor de meesten zangeres Margarita Monet zijn, maar wie verder kijkt en luistert, ontdekt dat de Amerikaanse formatie pakkende en effectieve tracks weet te schrijven. Niets baanbrekends, maar gewoon prettige, melodieuze songs die al snel blijven hangen. The Unknown is een fijne collectie nummers op de grens van rock en metal.
Tracklist:
1. Digital Paradise
2. My Method Your Madness
3. Tidal Wave
4. The Unknown
5. Believe
6. False Idols
7. You Touch You Die
8. One Last Time
9. Leaving Earth
10. Bound To The Rhythm
11. My Method Your Madness (Industrial Remix)*

* = bonustrack