Svölk - Nights Under The Round Table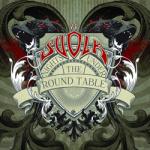 Drinkliederen in stonerformat, moet kunnen toch? Het is een combinatie die ik in principe niet uit de weg gaat. Het moet gewoon goed uitgevoerd worden. That's it! Het probleem is eigenlijk dat de meeste bands gewoon door de mand vallen vanwege verschillende problemen, maar hoofdzakelijk omdat het na twee songs gewoon niet blijft hangen. Laat staan een heel album. Het Noorse Svölk werkt hard aan hun eigen succes. Drie jaar na het titelloze debuut, ligt de o zo belangrijke derde plaat,
Nights Under The Round Table
, op de planken.
De leuke woordspeling doet natuurlijk de mondhoeken omhoog krullen. Mogen deze bear metallers zich net zulke legendes noemen als koning Arthur en zijn ridders? Neuh… Daar kunnen we snel en zeker op antwoorden. De zelf uitgevonden term bear metal doet natuurlijk hopen op enigszins originele muziek, maar de mix van stoner, metal en een (Noorse) redneckhouding is dat natuurlijk niet. In feite is dit de zoveelste schreeuwerige rock-n-roll. Sommige bands klinken de eerste keer ook niet spectaculair, maar geven je nog wel het gevoel dat de muziek kan groeien. Het trucje van Svölk heb je na een minuut wel door.
Het is natuurlijk jammer dat de ongetwijfeld noeste arbeid van deze vikingboeren niet de juiste uitwerking heeft. Aan de andere kant zou meer variatie in riffs de muziek wat mij betreft geen kwaad doen. Het scheelt verder wel dat de zanger nog aan te horen is, al is deze Knut Erik ook niet bepaald een talent te noemen. Ik moet me wel episch vervelen als ik Nights Under The Round Table ooit nog eens in de cd-speler schuif.
Tracklist:
1. Living By The Sword
2. Feed Your Soul
3. Painbringer
4. Twentyfourtwenty
5. Fallen
6. Break My Bones
7. Bearserk
8. To Conquer Death You Only Have To Die
9. This Is Where It Ends

Score: 57 / 100

Reviewer: Ruud
Toegevoegd: 19 september 2012
Meer Svölk: