Float A Ziggy - The World Is My Muse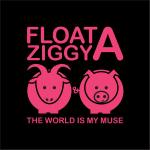 Vorig jaar schreef Teun al een review over het eerste werkje van het Groningse Float A Ziggy. Dat was een erg positief stukje en daarom was ik erg verheugd om het nieuwe schijfje te mogen ontvangen. Zijn enthousiasme heb ik vanaf de eerste luistersessies over kunnen nemen. Het is erg leuk om te constateren dat de muziek van deze heren erg volwassen klinkt en inderdaad onnederlands.
En dat laatste bedoel ik eigenlijk altijd positief. Er zijn maar weinig lokale muzikanten die zich van die typische Hollandse kneuterigheid kunnen ontdoen. Float A Ziggy kan dat probleemloos en doet me het meest denken aan de scene van Seattle in het begin van de jaren '90. Associaties met bijvoorbeeld Mother Love Bone en andere vroegere grungebands liggen er dik bovenop. De vijf tracks van The World Is My Muse bevatten exact hetzelfde rauwe geluid van de klassiekers van weleer. Daarnaast niet te vergeten dat er een duidelijke knipoog is naar de stoner die zich niet veel later ontwikkelde tot een volwaardige stijl.
Behalve de complimenten voor het sfeervolle geluid kan ik vol bewondering spreken over de songgerichte aanpak van dit drietal. Dat lukt niet op elk nummer even goed, maar dan heb ik het over kleine dingetjes. De neerslachtige stemming geeft de muziek een sterke emotionele lading mee, waardoor de openingstrack, Tribe en Tomorrow ontzettend goed geworden zijn. Ik ben dol op het authentieke geluid en daarmee niet te vergeten de stiekem verborgen nostalgische lading. Even waande ik me weer dat jochie van vijftien dat voor het eerst in aanraking kwam met Nirvana, Pearl Jam en Green Lizard. Ik kan helemaal opgaan in deze muziek en ik raad je aan hetzelfde te doen.
Tracklist:
1. I Accidentally Enriched Myself With Happiness
2. He The Sun
3. Third Layer
4. Tribe
5. Tomorrow

Reviewer: Ruud
Toegevoegd: 6 mei 2011
Meer Float A Ziggy: