Panthe´st - O Solitude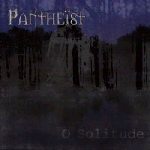 Een tijdje geleden heb ik een erg leuke avond gehad in de Frontline te Gent. Er was een tof doom metalfestivalletje met Morgion, Mourning beloveth en The propechy. Maar de eerste band van de avond was Panthe´st waarvan ik eerlijk gezegd nog niet van had gehoord. Maar hun set overtuigde mij. De muziek kwam duidelijk uit het hart en de songs hadden duidelijk potentieel. Doom metal is een genre dat ik de laatste twee jaar steeds boeiender en interessanter vind. Zeker omdat er releases als dit uitkomen!
Panthe´st is een Belgische band opgericht door Kostas (zang en keyboard). Deze vierkoppige band speelt trage en afwisselende doom. De nummers (vijf in totaal) duren bij elkaar toch een uur. De cd opent werkelijk fantastisch met het titelnummer. Geweldige song en geweldige passages. Een klassieker. Het tweede nummer duurt veertien minuten en is ook van erg hoge kwaliteit. Dat nummer bevat een rustig begin, een bijna folky akoestische passage, en later in het nummer komt er nog een geweldige 'ontploffing' voor. 'Time' is een meer standaard doommetalnummer maar bevat naar het einde toe nog een prachtig leadgitaarstukje. 'Envy us' is gebaseerd op muzikale stukken van Chopin en Beethoven en is een mooie geluidsescapade. Het vijfde en weeral laatste nummer bevat een erg meesterlijk thema maar duurt wat te lang naar mijn gevoel.
Alle doomfans moeten dit album toch zeker eens gaan beluisteren. De spanning, de emoties, de sfeer en geweldige passages maken dit album tot een parel. Ook de (erg depressieve) teksten zijn erg mooi. Eigenlijk heb ik niet echt kritiek op dit album. Ik hoop deze band dan ook nog eens live te zien (nieuwe tournee met de Finse doommetallers Skepticism volgt onder de erg leuke naam 'Funeral procession 2003') en ik zal ze zeker blijven volgen. Dit is hun eerste echte cd maar in 2001 hadden ze de demo "1000 years" uitgebracht waarvan je gratis nummer kan downloaden van de site mp3.com. Kortom, een geweldig sfeervol doomalbum dat me echt weet te raken. Dit zal nog veel gedraaid worden in huize van Acker rond middernacht! Geweldig!
Tracklist:
1. O Solitude
2. Don't mourn
3. Time
4. Envy us
5. Curse the mourning light

Score: 80 / 100

Reviewer: Kristof
Toegevoegd: 18 april 2003
Panthe´st - O Solitude
Reactie van Een_Metalfan op 20-04-2003 om 17:15u

must... have... cd....
Panthe´st - O Solitude
Reactie van Dimmu op 06-07-2005 om 02:47u

leuke groep , chill muziek , je valt er soms wel bij in slaap maar dat heeft z'n charme