Mötley Crüe - Carnival Of Sins Live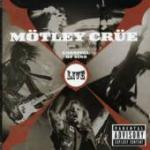 Een live-cd'tje speciaal voor de Nederlandse fans, moeten de mannen van Mötley Crüe gedacht hebben. Want hun 'Carnival of Sins'-tour is de hele wereld overgegaan, maar alleen de Benelux werd asociaal overgeslagen. Met deze live-cd, waarvan ook een DVD is, kunnen we toch nog proeven van het spektakel. Dat lukt erg goed, want de sfeer komt erg goed naar voren. Het massaal opgekomen publiek is elke seconde te horen en gelukkig nooit irritant.
Ook 'songwise' is het smullen. Het concert wordt geopend met maar liefst zes nummer van hun beste cd "Shout At The Devil", dus het kan eigenlijk al niet meer stuk. Maar "Louder Than Hell", "Primal Scream" en "Kickstart My Heart" zijn minstens zo passend bij deze setlist die de gehele tour werd gebruikt. De band is in vorm en eigenlijk is iedereen wel op hun best. Kortom, niks mis met deze package van The Crüe.
Maar ik vind het zo jammer dat sinds de band weer in ere is hersteld, er weer zo nodig zoveel mogelijk geld aan verdiend moet worden. De nummers van de cd staan ook allemaal op de vorig jaar verschenen verzamelaar "Red, White & Crüe" en uiteraard ook al honderd maal op andere live- en verzamelplaten. Ook komen er twee boeken uit van de capriolen die band heeft uitgevreten tijdens de tour. En zo kan ik nog wel even doorgaan. Daarom heeft deze live-release een vieze nasmaak van 'snel eventjes geld verdienen' wat niet echt fijn is. De DVD alleen is wel genoeg. De uitstekende setlist, sfeer en show komt dan stukken beter tot zijn recht.
Tracklist:
cd 1:
1. Shout At The Devil
2. Too Fast For Love
3. Ten Seconds To Love
4. Red Hot
5. On With The Show
6. Too Young To Fall In Love
7. Looks That Kill
8. Louder Than Hell
9. Live Wire
10. Girls, Girls, Girls
11. Wild Side
cd 2:
1. Don't Go Away Mad (Just Go Away)
2. Primal Scream
3. Glitter
4. Without You
5. Home Sweet Home
6. Dr. Feelgood
7. Same Ol' Situation (S.O.S.)
8. Sick Love Song
9. If I Die Tomorrow
10. Kickstart My Heart
11. Helter Skelter
12. Anarchy In The U.K.
Reviewer: Rene
Toegevoegd: 4 mei 2006
Mötley Crüe - Carnival Of Sins Live
Reactie van Old Mhb op 05-05-2006 om 06:25u

Too fast for love komt wel niet van Shout at the devil maar van hun debuut met dezelfde titel als de song.