Jeff Walker Und Die Flüffers - Welcome To Carcass Cuntry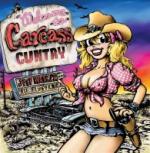 Het is onvoorstelbaar hoe iemand als Jeff Walker, die met Carcass aan de wieg stond van zowel grindcore als melodieuze death metal, een plaat durft uit te brengen als
Welcome To Carcass Cuntry
. Walker heeft blijkbaar een passie voor oude country en blues nummers, en kreeg het idee om wat van zijn favoriete songs in een metalvorm te gieten. Het resultaat is helaas soms wat lachwekkend.
Maar lachwekkend is niet het sleutelwoord. Soms bekruipt je namelijk een gevoel van plaatsvervangende schaamte. Ok, You're Still On My Mind (origineel van George Jones) is een lekker uptempo nummer, wat er best mag zijn. Maar daar tegenover staat een echt vreselijke cover van I'm So Lonesome I Could Cry van Hank Williams, waar echt vals op wordt gezongen. The End Of The World is ook best goed te doen, als iemand anders het had ingezongen. En dat is dan gelijk de grootste klacht over deze cd. Had iemand anders het ingezongen, dan was het misschien een stuk beter geweest. Muzikaal is het namelijk redelijk in orde. Redelijk, want nergens is het echt goed. En om terug te komen op de zang: alleen Rocking In The Free world (cover van de Neil Young klassieker) is het enige nummer waar de zang van Walker redelijk past.
Bij het maken van deze plaat werd Walker bijgestaan door z'n voormalig Carcass companen Bill Steer en Ken Owen, evenals ex-Faith No More bassist Billy Gould, H.I.M. frontman Ville Valo en drummer Gas, Nick Holmes van Paradise Lost, Hellecopters frontman Nicke Andersson, en Esa Holopainen en Timo Koivusaari van Amorphis. Of ze nu zo blij moeten zijn met dit album op hun CV is maar de vraag.
Het kan haast niet anders dan dat ze veel lol beleefd hebben aan het opnemen van deze cd. Het resultaat is echter hier en daar redelijk grappig, (heel) soms best goed, maar helaas soms ook gewoon ronduit slecht. Vermakelijk is het echter wel, voor eventjes.
Tracklist:
1. The Man Comes Around
2. I Can't Help It If I'm Still In Love With You
3. You're Still On My Mind
4. Sunday Morning Coming Down
5. Mississippi
6. I Just Dropped In To See What Condition My Condition Was In
7. I'm So Lonesome I Could Cry
8. Once A Day
9. The End Of The World
10. Rocky Mountain High
11. Keep On Rocking In The Free World
Reviewer: Tonnie
Toegevoegd: 2 mei 2006
Meer Jeff Walker Und Die Flüffers: