Grimlord - Dolce Vita Sath-anas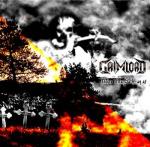 Grimlord's vorige album,
Blood Runneth Over
was een aardig staaltje muzikaal vakmanschap. De composities van de Polen stonden als een huis, maar het schortte aan de zang. Ik ben benieuwd welke adviezen de band ter harte heeft genomen.
De eerste nummers van Dolce Vita Sath-anas zit de vaart er goed in. De melodieuze heavy metal gaat regelmatig een versnelling hoger. De gitaarmelodieën van 'Barth La Picard' doen sterk denken aan Iron Maiden, de opbouw van de nummers aan oude Megadeth. Er wordt een horrorsfeer opgeroepen door het ruime gebruik van toetsen en orgelklanken. Tezamen met de vreemde, grimmige zang, tapt Grimlord uit hetzelfde stilistische vaatje als Mercyful Fate. Het is een flinke knipoog naar de blackmetal oorsprong van de band.
De ware achilleshiel van Grimlord is nog steeds de matige zang. Blijkbaar kwam de band tot dezelfde conclusie, want na de eerste drie nummers is Dolce Vita Sath-anas volledig instrumentaal. Dat doet overigens niet veel af aan de eerste helft van de CD. When The Heads Are Going Down bewijst dat de zanglijnen goed in elkaar zitten en rijmen met de melodie. De zes instrumentale nummers zijn sterk van opbouw. De slepende en sfeervolle, 'gothische' stukken gaan over in tempoversnellingen en afwisselend snelle en volle gitaarleads. Zonder uitzondering prima werkjes, maar lastig om de aandacht er bij te houden. Dit zijn toch nummers die zang verdienen.
Vandaar ook de conclusie dat Dolce Vita Sath-anas opnieuw laat zien dat deze Polen tot veel in staat zijn, maar dat het gebrek aan goede zang een wezenlijk gemis is gebleven. Het drietal heeft met Barth La Picard gewoon een uitstekende gitarist, maar een ondermaatse zanger in handen. Hoewel de stijl niet vernieuwend is, heeft de band potentie, is instrumentaal aanstekelijk en zou met een fatsoenlijke zanger de status van obscuur Oostblokbandje kunnen ontgroeien.
Tracklist:
1. Dolce Vita Sath-anas
2. When The Heads Are Going Down
3. Oh! My King
4. Shade Of Wrath Angels
5. Ground Zero
6. Dissolution Of Eternity
7. Ancient Land Of Ys
8. Avericious Scavenger / Panth Of Lash
9. Lamentation Sword

Score: 70 / 100

Reviewer: Teun
Toegevoegd: 1 januari 2010
Meer Grimlord:
Reactie van richard op 02-01-2010 om 13:10u
Score:
9
/ 100
good album!
Reactie van triclops op 26-01-2010 om 23:12u
Score:
9
/ 100
I wonder when will the next album come out?