Days Of Betrayal - Decapitated For Research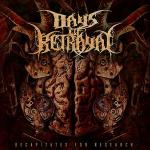 U die van stevige, brute of melodieuze mokerslagen houdt, zult bij Shiver Records zelden van de koude kermis thuiskomen. Sinds jaar en dag presenteert dit label de ene sterke band na de andere en liegen de meeste albums er niet om: Kwaliteit kent er strenge cipiers. Nu het debuut van de Belgische Days Of Betrayal,
Decapitatd For Research
, zich via Shiver records aandient, verval ik wederom in de oude conclusie, die maar zelden verstoring kent: Voici een noemenswaardige plaat. Alweer.
Decapitated For Research is een cd die zich maar lastig laat omschrijven en toch meteen vertrouwd klinkt. Melodieuze deathmetal, snoeiharde deathmetal, rauwe deathcore en high-speed nummers, dat is zo ongeveer een globale kenschets van wat u min of meer kunt verwachten. Bloedlinke riffs, wervelende solo`s, dissonante breaks en een put vol agressieve en diverse stemvervormingen die zowel onderin de put grommen als in het zonlicht om adem krijsen.
Days Of Betrayal besteedt ruime aandacht aan zeer veel aspecten die deze cd tot een linke vuurbal kneden. Melodie speelt binnen de nummers een belangrijke rol en vormt vaak de rode draad, de onstuimige drang om uit de startblokken te blijven schieten kleedt deze verder aan met verschillende muzikale krachten en een heldere productie, die iedere noot extra accentueert.
Voor een sterke middenweg tussen Zweedse melodeath, Duitse metalcore (zonder cleane vocalen) en deathcore uit de U S and A bent u bij Days Of Betrayal bijzonder op uw plaats. Decapitated For Research is een duiveltje met vele gezichten. Zowel bruut als mooi, soms ingetogen, maar vooral fel en vol levenslust.
Tracklist:
1. Duskfall
2. Decapitated For Research
3. Murder Ballads
4. Hanging By A Thread
5. Execute Hope
6. Narcotised
7. Within Melancholic Rapture
8. The Blacker Silence
9. Within These Flesh Made Walls
10. The Next Victim
Score: 79 / 100

Reviewer: Lana
Toegevoegd: 16 november 2008
Meer Days Of Betrayal: