Always Fallen - See My Blood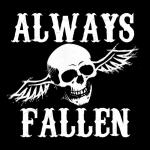 België is een echt metal land met bergen aan optredens en een enthousiast publiek om deze te bezoeken. Vergeet daarnaast het jaarlijkse festival Graspop Metal Meeting niet. Dat België niet alleen beschikt over een enthousiast publiek en locaties voor hen om hun helden te zien optreden bewijzen tal van Belgische bands. Nieuw sinds 2005 in de gelederen van onze zuiderburen is de thrashband Always Fallen die met hun tweede demo/mini cd See My Blood hoge ogen weten te gooien.
Als groep bestaan ze nog maar drie jaar, maar hebben in die drie jaar al met tal van grote namen opgetreden zoals bijvoorbeeld thrashers Sodom. Met deze drie nummers willen ze mensen alvast warm laten lopen voor hun debuut album wat begin volgend jaar uit moet komen, hoewel zij momenteel nog op zoek zijn naar een label. Dat label zal er zeker snel komen wanneer de een of andere platenbons deze drie nummers hoort. De drie nummers klinken namelijk geweldig, zowel qua spel als productie. Alles valt bij deze drie thrash songs op hun plaats. Qua stijl zijn ze niet zo heel erg origineel met een geluid dat erg traditioneel aandoet, maar qua spel en energie schieten deze heren de lucht in. Het is hard, snel, ruw en de drie nummers See My Blood, Hail To Fire en The Prophecy zitten geweldig in elkaar. Laat die langspeler dus maar komen, want dat moet gezien de drie nummers die deze demo/mini cd telt een geweldig succes worden.
Tracklist:
1. See My Blood
2. Hail To Fire
3. The Prophecy
Reviewer: Walter
Toegevoegd: 22 mei 2008
Meer Always Fallen: