Indyus - Demonstration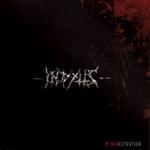 In Oostenrijk ontvouwt een nieuwe band, gelijk een zeearendjong, de nog onwennige vleugels. Vleugels die nog in ontwikkeling zijn en over een niet al te lange tijd aan een snelle en gevreesde rover zullen toebehoren. Zo zijn de eerste indrukken na het horen van
Demonstration
, de eerste demo van de Oostenrijkse Indyus.
In eigen beheer brengt de jonge band dit jaar haar eerste demo uit, die, zoals de titel van deze drie nummers tellende demonstratie al aankondigt, demonstreert wat Indyus op dit moment in petto heeft. Een begeleidend schrijven vermeldt dat dit slechts een beginnetje is, there`s more to come...
Aan dit beginnetje te oordelen gaat er nog heel wat destructieve shizzle komen, want de drie nummers die Demonstration rijk is klinken allesbehalve kinderachtig. Hardcore (dus géén metalcore!) en deathmetal zijn de sleutelwoorden. De "in your face-sound" en de snelle, ritmische composities uit de hardcore stuiteren hand in hand met een machtig, donker geluid en een strot die de death-diepte gering afwisselt met bulderende schreeuw-achtige stemnoten.
Voor een eerste demo is zo`n sound beslist niet mis. De agressie is present, de speeltechnieken zijn prima op orde en de snelle nummers hebben een dreigende waas over zich die de aandacht opeist en respect afdwingt. Een mooie insteek en een prima geluid, met zo`n demo kom je als band zeer behoorlijk voor de dag. Hoewel dit hoogstwaarschijnlijk geen voer is voor de meeste death-puristen (toch te hardcore-achtig) ziet de toekomst er voor Indyus goed uit. Met zo`n demo slaat een band geheid een labeldeal aan de haak.
Tracklist:
1.Welcome To Depravity
2.Double Standards
3.Legalize Life
Reviewer: Lana
Toegevoegd: 23 oktober 2007
Meer Indyus:
Reactie van damian op 28-10-2007 om 12:43u
Score:
100
/ 100
fucking great
i´ve seen those guys on tour-they rule-hope to hear so much more of them!