3 - The End Is Begun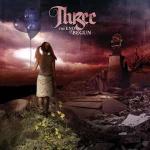 Elke metalfan heeft wel een lijstje met bands die hij nog moet uitchecken. Een lijstje dat bij mij en vele anderen al eindeloos lang is geworden. Ergens op plaats 124 staat bij mij de Amerikaanse band 3 (ook bekend als Three) die naar aanleiding van enkele positieve recensies van het album
Wake Pig
een plaatsje op mijn papier veroverde. Nu ken ik nog steeds de oudere albums van dit progressieve gezelschap niet, zodat dit nieuwe
The End Is Begun
mijn eerste kennismaking met het werk van deze heren is.
En die kennismaking is alleraardigst. De ietwat zoetsappige progressieve rock/metal wordt mooi verpakt in overzichtelijke korte songs en het doet deugd om nog eens een band in het genre te horen die niet zweert bij songs van minstens zeven minuten. Gedurende deze reis moet ik aan uiteenlopende bands als Spock's Beard, Event en The Flower Kings denken. Maar toch heeft 3 dankzij de persoonlijkheid, het soms wat eigenzinnige zanggeluid en de door Led Zeppelin beïnvloede gitaaraanslag van bandleider Joey Eppard een eigen gezicht.
De songs kennen ook een verslavingsfactor en de zanglijnen voelen gewoon zeer lekker aan en bij het luisteren krijg ik hetzelfde goede gevoel dan wanneer ik de blije liedjes van Scissor Sisters en Mika op de radio hoor passeren. Machtig! En nu moet ik toch echt eens het oudere werk van dit 3 zien te beluisteren. Waarom zijn er maar vierentwintig uur in een dag?
Tracklist:
1. The World Is Born Of Flame
2. The End Is Begun
3. Battle Cry
4. All That Remains
5. My Divided Falling
6. Serpents In Disguise
7. Been To The Future
8. Bleeding Me Home
9. Live Entertainment
10. Diamond In The Crush
11. Shadow Play
12. These Iron Bones
13. The Last Day
14. Dregs (Acoustic Version) (Bonus Track)
Score: 88 / 100

Reviewer: Kristof
Toegevoegd: 15 juli 2007
3 - The End Is Begun
Reactie van Winston Arntz op 13-08-2007 om 00:06u
Score: 10 / 100
wow wat een plaat! Totaal overrompeld werd ik door deze band waar ik ook nog niet bekend mee was. Ik kom tot een vergelijking met deze ingredienten; Rush, King's X, Led Zeppelin, Dream Theater, Yes.

Bril-f**ikn-jant en ook ik ga achter de eerdere platen aan!