Calibern - Insane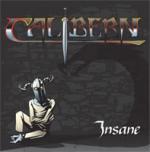 Betere nummers, verbeterde zangprestaties en een prima productie: zie hier de eerste echte Calibern cd vs. de demo The Darkest Night in een notendop. Dit sinds 2004 actieve heavy metal gezelschap is binnen het Nederlandse circuit inmiddels een veel geziene live act die, gesterkt met nieuwe gitarist Mario (ex-Mental Captivity, ex-Roadkill), een grote sprong binnen haar bestaan lijkt te gaan maken.

Zeven nummers lijkt misschien wat weinig voor een full-length, maar met een speelduur van 36 minuten kom je als luisteraar toch vrij weinig tekort. Of het nu de subtiele tempoversnelling is in Calibern, de melodieuze Iron Maidenesque opening bij Insane of het catchy meezingbare refrein van Hate You Now, het moge duidelijk zijn dat de band sinds de vorige demo een hoop progressie heeft gemaakt. De songs zijn beter gestructureerd, Federico's uithalen klinken machtiger en de productie (vooral wat betreft de drums) mag voor een eigen beheer productie zeker niet slecht genoemd worden. De nieuwe, en veel strakkere, versie van The Darkest Night kan daarnaast een klein hoogtepunt genoemd worden.

Het experimenteren met tweede stem gaat de band redelijk af, hoewel het vooral zanger Federico zelf is die met zijn bijzondere stem het geheel iets extra's geeft. Voorlopig kan ik als enige echte vergelijking Biff Byford (Saxon) noemen, maar meer dan een gelijkenis is het ook niet. Is er dan geen kritiek? Ach, het kan allemaal nog beter, nog spannender, maar dat lijken me zaken voor later. Voorlopig ben ik meer dan tevreden met Insane en raad ik heavy metal minnend Nederland dan ook zeker aan tot aanschaf over te gaan. Een ruwe diamant!

Tracklist:
1. Blazing Through The Sky
2. Kill The Beast
3. Calibern
4. The One
5. Insane
6. The Darkest Night
7. Hate You Now
Score: 80 / 100

Reviewer: Lennert
Toegevoegd: 24 januari 2007
Reactie van Cees op 24-01-2007 om 16:38u
Score:
99
/ 100
EEEUUUUHHH, Weer een Goede heavy metal band er bij!!
Reactie van Een Metalfan op 24-01-2007 om 19:04u
Slijm slijm...Federico je bent geweldig etc...braak
Reactie van Federico op 24-01-2007 om 19:47u
De band bestaat uit 5 man niet alleen mij. En Cees overdrijft het natuurlijk wel heel erg. Met andere woorden Calibern is geweldig :P
Reactie van Jeroen op 25-01-2007 om 00:04u
Score:
55
/ 100
Toch maar eens wat beluisterd, maar helaas, het heeft het voor mij persoonlijk allemaal niet zo. Met name de vocalen vormen een struikelpunt (sorry kerel) Gewoon puur een kwestie van smaak.