Edge of Anger - Hate Charge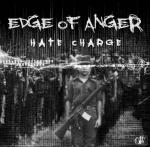 De nieuwe groep van Nederlandse bodem Edge of Anger is vooral het product van de Friese gitarist Wietze Halma, die eind vorig jaar begon met het schrijven van een aantal nummers, en er later een band bij zocht en vond. Die band was al snel gevonden, en daarvan is dit eerste album Hate Charge het resultaat.
Hate Charge staat boordevol flink agressieve nummers met een lekker ruw randje. Niet zo gek ook met de titels die dit album bevat; bij titels als Crusher of Madness en Rage Mentality verwacht je geen lieflijke melodietjes. Hardcore-invloeden en vlijmscherp gitaarwerk zijn dan ook alom aanwezig met daarnaast maatschappijkritische teksten. De nummers zitten stuk voor stuk redelijk goed in elkaar, maar weten nog niet boven de middenmoot uit te komen. Ook is de zang niet het sterkste punt van dit album. Een zanger die bij de band paste kon volgens eigen zeggen niet gevonden worden, dus heeft Wietze Halma de zanglijnen zelf voor zijn rekening genomen. Hier en daar weet hij er iets moois van te maken, maar in bijvoorbeeld de titelsong Hate Charge zijn zijn vocale beperkingen toch goed te horen.
De band heeft het zeker in zich, maar dit album lijkt wel erg snel in elkaar te zijn gezet. Misschien had er net iets langer gezocht moeten worden naar een passende zanger, en hadden de songs net iets kritischer bekeken kunnen worden.
Tracklist:
1. Incomming
2. Hate Charge
3. Crusher of Madness
4. Inner Perfection
5. Rage Mentallity
6. Killing Fields of Hatred
7. Blast Off
8. Take The Blame
9. Edge of Anger
10. We Will Never Learn
11. Waters of Relieve (bonustrack)
Score: 65 / 100

Reviewer: Walter
Toegevoegd: 5 december 2006
Meer Edge of Anger:
Reactie van jelmer op 05-12-2006 om 14:12u
ik heb ze live gezien op 1 oktober met necrophobic ik vond ze toen helemaal niet zo slecht klinken