Motörhead - Kiss Of Death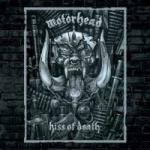 Het is een beetje traditie geworden; het tweejaarlijkse Motörhead album. Twee jaar na Inferno is er dan ook de opvolger Kiss of Death. Inferno liet hier en daar nog wel eens een steekje vallen ondanks enkele enorm sterke nummers, Kiss of Death is wat dat betreft stukken beter. Twaalf nieuwe ijzersterke Motörhead-songs, die zorgen voor een mooi consistent album.
Uiteraard zijn er de typische snelle Motörhead songs zoals Sucker en Trigger, de bluesrockers Devil I Know en Under The Gun en het nummer met de grappige tekst One Night Stand. Wat dat betreft is er weinig nieuws onder de zon. De laatste jaren is Motörhead zich echter ook gaan bedienen van een wat ruiger en harder geluid, zoals we op Inferno al hoorden in de vorm van In The Name of Tragedy. Tot groot genoegen horen we dat harde geluid ook weer terug op Kiss of Death in de vorm van Living in The Past en Kingdom of The Worm.
Na het succesvolle Whorehouse Blues op de vorige plaat kon een mooie opvolger natuurlijk niet uitblijven. In plaats van een echt stukje blues te gaan, is de keuze voor Kiss of Death gevallen op de geweldige rockballad God Was Never on Your Side. De ruwe vocalen van Lemmy worden hier aangevuld met het gitaarwerk van C.C. Deville. Buiten C.C. Deville krijgt Motörhead nog steun van Alice in Chains bassist Mike Inez tijdens het nummer Under The Gun.
Lemmy en kompanen lijken met Kiss of Death nog altijd even fit te zijn. Ondanks dat Kiss of Death weinig echt nieuws te bieden heeft, is het een album met twaalf uitstekende songs die laten zien dat Motörhead na ruim 30 jaar het kunstje nog niet verleerd is. We are Motörhead and we play rock & roll!
Tracklist:
1. Sucker
2. One Night Stand
3. Devil I Know
4. Trigger
5. Under The Gun
6. God Was Never on Your Side
7. Living in The Past
8. Christine
9. Sword of Glory
10. Be My Baby
11. Kingdom of The Worm
12. Going Down

Score: 80 / 100

Reviewer: Walter
Toegevoegd: 4 september 2006
Meer Motörhead:
Reactie van Old Mhb. op 05-09-2006 om 17:58u
Score:
99
/ 100
Voklgens mij heb je de promo. Staat er op Kiss of death geen (nieuwe ?) versie van R.A.M.O.N.E.S. dat eerder verscheen op 1916 uit 1991 ? Goede review overigens.
Reactie van Walter op 05-09-2006 om 18:28u
Nee, die staat er niet op. De bonustrack op de limited editie is Whiplash. Ik heb de promo en natuurlijk meteen het album gekocht afgelopen weekend.
Reactie van Luuk op 10-09-2006 om 12:27u
Score:
85
/ 100
Heerlijk album met lekkere rockmetal, deze heren zijn het zeker nog niet verleerd!!!
Reactie van harley op 10-09-2006 om 17:02u
Score:
90
/ 100
Yep,het beste Motorhead album in lange tijd. En inderdaad het klinkt lekker vet allemaal!!!
Reactie van Old Mhb op 11-09-2006 om 19:33u
Score:
100
/ 100
Op de limited editie staat inderdaad Whiplash. Ma volgens sommige bronnen op het net zou Ramones wel degelijk op het normaal album staan. Ik heb die versie gehoord die er op zou komen staan en die is een behoorlijk stukje sneller dan het origineel. Ik weet het ook niet echt meer. Anyway, goede review en zeer goed album. De Limited heb ik natuurlijk in huis gehaald. De beste Motörhead in jaren. Score, Tja ik ben nu 1maal al 30 jaar Motorkopknaller.
Reactie van Pete aSs op 15-09-2006 om 00:22u
Score:
91
/ 100
Motorhead rules, kicks ass...Aardschok sucks!!!( cfr. hun recensie ).
Reactie van NDL op 24-09-2006 om 20:04u
Score:
85
/ 100
Ik heb ook heel hard moeten lachen met de Aardschok recensie. Ik heb het gevoel dat Motorhead met dit album heel essentieel klinkt : in de productie laten klinken wat belangrijk is en de rest overboord. KOD klinkt zeer live en to the point. Ik kreeg een enorm goed gevoel toen ik KOD hoorde (ik luister al 25 jaar naar Motorhead) en dat was al even geleden. Ik kreeg ook een vreemd gevoel : dit is Lemmy's laatste ! Let's hope not !
Reactie van Skip op 26-09-2006 om 20:16u
Score:
90
/ 100
hmmm.. lekker album, motorhead steld me niet teleur. laat ze nog maar lekker een paar jaar doorgaan :P
Reactie van johnny op 12-10-2006 om 22:07u
Score:
98
/ 100
Ik was wel geschrokken van de aardschok recensie. Ik had het album nog niet gehoord. Maar ik ben al fan vanaf 1980 (oude rocker) en heb nog nooit een slecht album van Motorhead gehoord. De laatste albums zijn allemaal van een zeer hoog niveau. Dit album is dus uitstekend, ook volgens de pers. Ik vind de recensie van aardschok dus ook een blunder.