Agankast - Welcome To Sanitarium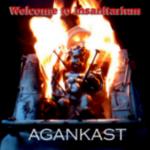 Welcome To Insanitarium is het vervolg op het in 2005 uitgekomen demo-achtige album Dance of The Dead van de Schotse metalformatie Agankast. De mengelmoes van stijlen die niet netjes op elkaar aansloten, is op dit tweede schijfje ingeruild voor een stevig thrashmetalgeluid waarmee je je zo weer in de jaren tachtig waant. De muziek van Agankast is niet gecompliceerd of buitengewoon virtuoos, het beukt echter wel enorm.
Het geluid wordt naarmate de songs vorderen steeds sterker en strakker. Waar Reign of Terror en More Meat? het nog een beetje kalm aan doen, hakt Slaves er direct hard in. Thrashmetal vergelijkbaar in stijl met oude Testament en Destruction. De productie van dit album is ongepolijst en ruw, maar zorgt er wel voor dat de muziek erg puur in de oren klinkt. De weinig zeggende teksten die grommend ten gehore worden gebracht, moet de luisteraar maar voor lief nemen. Met acht songs en iets meer dan veertig minuten op de klok is het een fijn ongecompliceerd album voor even tussendoor.
Tracklist:
1. Reign of Terror
2. More Meat?
3. Slaves
4. Welcome To Insanitarium
5. Within Darkness
6. The Battle of Bannockburn
7. Before The Storm
8. Gods of Total War
Score: 70 / 100

Reviewer: Walter
Toegevoegd: 25 augustus 2006