Agankast - Dance Of The Dead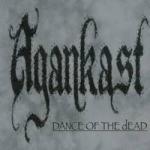 'Dance Of The Dead' is een dubieus schijfje. Dit debuut van het Schotse Agankast heeft een zeer matige productie en bevat een rammelende samenvatting van wat er op metalgebied begin jaren '80 uitkwam. Stel je een mix voor van primitieve NWOBHM gespeeld door matige muzikanten, Venom, de eerste Metallica elpee en Celtic Frost. Kortom, Goddess Of Desire zonder humor en bijhorende show.
Het brein achter deze band is Rob Matthew Redhead die ooit de gitaar hanteerde bij de heavy/thrash metalband Atomkraft toen hij een jaartje of zestien was. Mama was hier echter niet tevreden mee en Rob ging terug naar school en liet zijn gitaar jaren stofhappen op zolder. Samen met wat onbekende en jongere muzikanten richtte hij nu dan maar Agankast op en daar zit het probleem. De drummer bijvoorbeeld is een groot fan van Cradle Of Filth en Slipknot en de jaren '80 interesseert hem naar eigen zeggen niet echt. Zodoende verzand dit album in allerlei substijlen en heb ik geen idee waar deze band heen wil.
Het pijnlijkst zijn dan ook de teksten die refereren aan powermetal, thrash en grindcore. Zo wordt op het ene moment een hymne met zwaard en bijhorend bloed uit de hoge hoed getoverd, terwijl er op andere momenten zanglijnen als 'The feast is over my body of germ, consumed by insect, maggot and worm' langskomen. Deze Schotten moeten nog eens goed nadenken over wat ze willen voor ze weer cd's de wereld rond gaan sturen.
Tracklist:
1. Fallen Evil
2. Dance Of The Dead
3. 100 Years From Now
4. Men Of Sorrow
5. Suffocator
6. The Killing Spree
7. Warlord
8. Cockroaches
9. Return To The Valley Of The Kings

Score: 45 / 100

Reviewer: Kristof
Toegevoegd: 14 november 2005
Meer Agankast: