Sólstafir - Masterpiece of Bitterness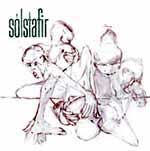 IJsland…dan denk je vaak aan vulkanen, gletsjers, prachtige natuur, een, volgens zeggen, overschot aan mooie vrouwen, Bjork en Sigur Ros. Dat er echter ook prima metal wordt gemaakt was mij tot op heden onbekend.
Zoals gezegd tot op heden want Solstafir is een metalband uit IJsland. Men is al enkele jaren bezig in de underground met verschillende demo's en 7" releases en maakte naar verluid voorheen een soort van vikingmetal. Deze invloeden komen her en der dan ook naar boven als men het gaspedaal wat verder intrapt. Dat Solstafir niet zomaar een band is, maar zeker over de nodige dosis lef beschikt bewijst men met het eerste nummer, een operazangeres zet je even op het verkeerde spoor waarna men opent met het 20 (!) minuten durende 'I Myself the Visionary Head'. Dit nummer kan je zien als de blauwdruk voor de rest van het album, lang uitgerekte nummers, die vaak tergend langzaam naar een climax toewerken om vervolgens op een bijna hypnotiserende manier verder toe te werken naar de volgende climax. Vrij primitief klinkende tempoversnellingen, getergde zang die uit de tenen lijkt te komen, een zwaar ronkende bas ondersteunt de gitaren die mij regelmatig herinneren aan het oude In the Woods.. geluid maar nog vaker aan bands als Primordial en Enslaved. Verdere gelijkenissen zijn er met, het in het genre bijna onoverkomelijke Neurosis, Callisto, maar ook met een band als het Japanse Envy heeft men zeker overeenkomsten.
Masterpiece of Bitterness is een hele belevenis geworden waarin melancholie, depressie, psychedelie en agressie elkaar op zeer gepaste wijze afwisselen. Met een beetje fantasie zou je het zelfs kunnen omschrijven als de perfecte soundtrack voor het IJslandse landschap, primitief, woest en ruig gecombineerd met mooie en kalme stukken.
De laatste tijd worden we overspoeld met bands die een beetje in het Neurosis straatje zitten qua stijl, gelukkig weet Solstafir hier zijn geheel eigen draai aan te geven waardoor dit een zeer interessant album is geworden. Het is zeker geen gemakkelijk album, maar degenen die zich meer gaan verdiepen in deze plaat zullen geenszins teleurgesteld worden.
Dit schijfje zal in ieder geval de komende tijd nog erg veel in mijn stereo te vinden zijn.
Tracklist:
1. I Myself The Visionary Head
2. Nature Strutter
3. Bloodsoaked Velvet
4. Ghosts Of Light
5. Ljósfari
6. Ritual Of Fire
7. Náttfari

Score: 90 / 100

Reviewer: Armand
Toegevoegd: 18 februari 2006
Meer Sólstafir:
Sólstafir - Masterpiece of Bitterness
Reactie van Een Metalfan op 20-02-2006 om 08:13u

op 2 dt-fouten na een goede review :-)
Sólstafir - Masterpiece of Bitterness
Reactie van Armand op 20-02-2006 om 19:32u

Eentje is ontdekt, en die is aangepast, de 2e is wat mij en de redactie betreft een groot raadsel :) Laat ons daarom niet langer in spanning, wat is die 2e dt fout?