Taste Of Insanity - The Great Escape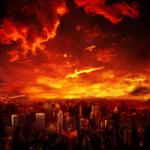 'The Great Escape' is hallucinerend. Eersteling 'Anima' was al een aparte, innoverende verrassing, maar deze lang verwachte opvolger zit ziekelijk goed ineen. Verpakt in een modieus jasje zit een trendy Compact Disc die niet moet onderdoen voor de grootste internationale vernieuwers van harde muziek. Een label plakken op het unieke geluid van deze Nederlanders is een te moeilijke opgave, dus ik haal de term 'moderne metal' die ik drie jaar geleden hanteerde, terug boven.
In vergelijking met het oude materiaal zijn de nieuwe composities korter en aantrekkelijker, maar ook uitdagender geworden. De uitstekende riffs zijn niet afkomstig uit een riffvariatiemelkbedrijf, maar zijn telkens nieuwe ideeën die kunstig zijn uitgewerkt. De gevarieerde en soms maniakale zang ('Purify!') van Roeland is er alleen maar sterker op geworden, en Dark Delusion' en 'State Of Mind' wil ik zo snel mogelijk live vertolkt horen worden. Het freaky 'Redemon' is dan ook nog het beste wat de heren ooit schreven en het bijhorende strijkintermezzo verdient het predikaat geniaal.
Normaal gesproken tover ik in de derde alinea altijd wat opbouwende kritiekpuntjes uit mijn hoge hoed, maar wat moet je verzinnen wanneer dit product in de puntjes is verzorgd. Een productioneel monster van een band die jaren geleden al het woordje esoterie in de Van Dale heeft opgezocht.
Tracklist:
1. Dark Delusion
2. Least I Can Do
3. The Need To restrain
4. State of Mind
5. North
6. Age of Enemies
7. 60 min. resentful
8. Cameo
9. Systemanic
10. Half Life
11. Redemon
12. Ill Karma
13. Machine

Score: 90 / 100

Reviewer: Kristof
Toegevoegd: 10 juli 2005
Taste Of Insanity - The Great Escape
Reactie van dude op 11-07-2005 om 17:14u
Score: 100 / 100
COOL!!!!