Dirkschneider & The Old Gang - Arising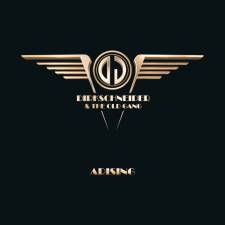 De Duitse heavymetallegende Accept was het meest succesvol in de samenstelling van eind jaren zeventig en begin jaren tachtig. De kern van het sextet Dirkschneider & The Old Gang bestaat voor het grootste gedeelte uit oud-Accept-leden. Udo Dirkschneider en gitarist (ooit drummer) Stefan Kaufmann werken wederom samen met bassist Peter Baltes, nadat deze eerder al een bijdrage had geleverd aan het vorig jaar verschenen We Are One (2020). Die samenwerking smaakte naar meer. Bovendien was er materiaal blijven liggen van die fantastische samenwerking met het orkest van de Bundeswehr. Zo werd Dirkschneider & The Old Gang geboren. De veteranen worden bijgestaan door Dirkschneiders zoon Sven op drums, gitarist Mathias Dieth (Sinner, U.D.O.) en zangeres Manuela Bibert, die eveneens te horen is op We Are One.
Onder de titel Arising brengt het zestal drie songs uit als single. Hoogtepunt van de schijf van om en nabij het kwartier is de knaller Where The Angels Fly, waar ook een versie van is verschenen met het Bundeswehrorkest (te vinden op YouTube). Voor de editie zonder orkest zijn de instrumentale partijen aangepast naar zwaarder dubbel gitaarwerk. Het nummer klinkt daardoor ruiger, hoewel er ook wat blazerspartijen bewaard zijn gebleven. De melancholieke powerballad schittert met een aanstekelijk refrein en dromerige coupletten.
Kernpunt van de groep is dat de zang wordt verzorgd door Dirkschneider senior, Baltes en zangeres Bibert. Die diversiteit werkt bijzonder goed en geeft de muziek een aangename, extra dimensie. De krijsen van Udo contrasteren mooi met het vriendelijke stemgeluid van met name Baltes. Bibet levert een fijne bijdrage aan Where The Angels Fly, maar haar partijen in de overige twee tracks zijn minder opvallend.
Uiteraard klinkt het geheel bombastisch, zijn er verschillende koorpartijen en ligt het geheel in lijn met de muziek van U.D.O.. Het eerdergenoemde Where The Angels Fly steekt met kop en schouders boven het overige materiaal uit, maar dat neemt niet weg dat Face Of A Stranger en Every Heart Is Burning aardige, traditionele metalstampers zijn. De indruk van de afsluitende track evenaren deze echter niet.
Tracklist:
1. Face Of A Stranger
2. Every Heart Is Burning
3. Where The Angels Fly

Reviewer: Walter
Toegevoegd: 9 augustus 2021
Meer Dirkschneider & The Old Gang: