Rebellion - We Are The People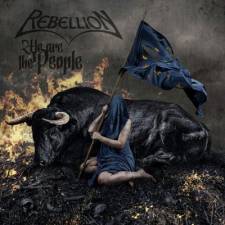 Voor het debuut van het Duitse Rebellion uit 2002 kun je me 's nachts altijd wakker maken. Lekker onvervalste heavy metal op zo'n lomp zware manier zoals alleen onze oosterburen kunnen maken. Daarnaast heb ik een zwak voor de rauwe en lage zang van Michael Seifert. Op latere albums wordt het trucje op prima wijze herhaald, hoewel de sleet er steeds meer op kwam te zitten.
Wyrd Bið Ful Aræd - The History Of The Saxons
uit 2015 is zelfs een aanfluiting te noemen. Oprichter en oud-gitarist van Grave Digger Uwe Lulis had inmiddels de band verlaten en had blijkbaar zijn creativiteit met zich meegenomen. Opvolger
A Tragedy In Steel Part II: Shakespeare's King Lear
heb ik maar links laten liggen.
De nieuwe plaat We Are The People markeert de terugkeer van Lulis. Hij heeft de band vooral bijgestaan als producer en neemt daarbij meteen het grote mankement van The History Of The Saxons weg, namelijk het blikkerige geluid. Rebellion excelleert in het schrijven van simpele doch aanstekelijke heavymetalsongs, maar dan moet de aankleding wel uitstekend zijn. Dat is eindelijk weer eens gelukt. Rebellion heeft haar moddervette sound terug en klinkt weer als een goede kopie van Grave Digger. We Are The People is in dat opzicht al geslaagd.
De band staat bekend om zijn conceptalbums. Ditmaal is er gekozen voor de periode van de Franse Revolutie tot aan de Tweede Wereldoorlog. De drie openingstracks zijn typische rechtdoorzee-stampers. Vanaf Vaterland worden de composities spannender en avontuurlijker, maar het blijft headbangen geblazen. Vooral Gods Of War mag er zijn. Tussendoor komt het eenvoudige en fijne Ashes To Light voorbij, tactisch geplaatst tussen de nummers met meer diepgang.
Het is altijd prettig als een band die je hebt afgeschreven in positieve zin weet te verrassen. Rebellion doet dat met We Are The People, dat zich wat mij betreft kan meten met het debuut. De formatie heeft nooit tot de crème de la crème van de Duitse heavy metal behoord. Als er in de toekomst meer platen zoals deze gemaakt worden, zou daar zomaar eens verandering in kunnen komen.
Tracklist:
1. Voices Of War
2. Risorgimento (Tear Down The Walls)
3. Liberté, Égalité, Fraternité
4. Sweet Dreams
5. Vaterland
6. Verdun
7. Ashes To Light
8. Gods Of War
9. Shoa (It Could Have Been Me)
10. World War II
11. All In Ruins
12. We Are The People
Score: 80 / 100

Reviewer: Rene
Toegevoegd: 27 juli 2021