Kristoffer Gildenlöw - Homebound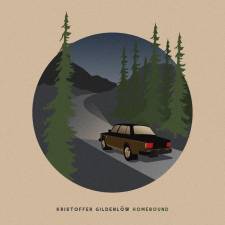 De meeste lezers kennen Kristoffer Gildenlöw van Pain Of Salvation of van Kayak, maar met Homebound is hij al toe aan zijn derde solo-album. In eerste instantie was dat als een tussendoortje bedoeld, maar hij bouwde voort op de nummers die niet op het volgende album Empty komen … en zo staan er toch maar liefst negen tracks op deze release.
Op Homebound vertelt de in Nederland woonachtige Zweed met zijn zachte stem reflectieve verhalen die een nostalgisch gevoel oproepen. Dat gebeurt in ingetogen en diepe nummers die fans van bijvoorbeeld Anathema aan zullen spreken. Zeker als het gaat om Holy Ground, waarin getokkel, atmosferische synthesizerpartijen en melancholische melodieën samenkomen. Een ander voorbeeld is het breekbare Snow, waarin het muzikale thema door een synthesizermelodie bepaald wordt.
Aan de andere kant hoor je Dire Straits terug in de composities, zoals in het orgelspel van Like Father, Like Son of in het Mark Knopfler-achtige gitaarspel van Infected, een track die vanwege de vocalen liefhebbers van Antimatter zou kunnen bekoren. Like Father, Like Son bevat een bluesy gitaarsolo en is net als I Cried Today één van de hoogtepunten op het album. De andere 'liedjes' doen er weinig voor onder. Voor Our Home en You Need Not Stay (Away) pakt Gildenlöw de fretloze bas erbij. Laatstgenoemde gaat richting Leonard Cohen en de cover Chelsea Hotel #2 past dan ook prima tussen de overige tracks.
Het is heerlijk wegdromen en reflecteren met dit 'tussendoortje', dat veel meer heeft te bieden dan deze verkleinterm. Het is een rustgevende schijf met eerlijke, relatief minimalistische nummers die voldoende afwisseling en gelaagdheid bieden zodat je niet snel verveeld raakt. Homebound laat met vertrouwen uitkijken naar Empty, dat hoewel het een diptych vormt met Homebound, steviger, donkerder en symfonischer zal uitpakken.
Tracklist:
1. Eternal
2. Holy Ground
3. Like Father, Like Son
4. Infected
5. Snow
6. Our Home
7. I Cried Today
8. Chelsea Hotel #2 (Leonard Cohen-cover)
9. You Need Not Stay (Away)
10. Never Changed (Bonustrack)
Reviewer: Jeffrey
Toegevoegd: 13 juni 2020
Meer Kristoffer Gildenlöw: