Visions Of Atlantis - The Deep & The Dark Live @ Symphonic Metal Nights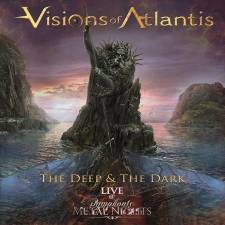 Het meest recente Visions Of Atlantis-album
The Deep & The Dark
, dat recentelijk zijn eerste verjaardag vierde, is een succes. Het leverde de symfonische metalgroep veel nieuwe fans op over de hele wereld. Het gaat wel met vallen en opstaan bij de internationale formatie. De griep kreeg vat op de bandleden rond
het optreden in Nijverdal
, maar
de herkansing in Leiden
leverde een overtuigende show op, waarbij Siegfried Samer (Dragony) afscheid nam en Michele Guaitoli (Temperance) de positie achter de microfoon overnam.
Net als de optredens eind vorig jaar is The Deep & The Dark Live @ Symphonic Metal Nights opgedeeld in twee stukken. Het eerste deel van de set (opgenomen in onder meer Wenen en Budapest) is Siegfried te horen en na een afscheidsintermezzo waarin hij mensen bedankt voor vijf jaar met mooie ervaringen, horen we Michele. Tijdens de show in Leiden bleek de zanger van Temperance een aanwinst te zijn voor Visions Of Atlantis en wat dat betreft hoeven we niet te rouwen om het vertrek van de zanger met het Duitse accent, die een minder sterke indruk maakte.
The Deep & The Dark Live @ Symphonic Metal Nights is pas het eerste live-album in het negentienjarige bestaan van de van oorsprong Oostenrijkse band. Het werd dus wel eens tijd dat een dergelijke release het levenslicht zag. Dat gebeurt dus nu, op het moment dat het kwintet springlevend is, veel optreedt en extra gas lijkt te geven om aan populariteit te winnen. Zoals reeds gemeld, waren de shows eind vorig jaar dik in orde en lijken wisselingen in de line-up even niet aan de orde.
Deze live-release bevat een focus op de tracks van The Deep & The Dark, maar ook het oudere werk komt aan bod. Zangeres Clémentine Delauney heeft in de afgelopen paar jaar bewezen de klassiekers goed aan te kunnen en is één van de redenen waarom de band in de picture staat. Uiteraard is er wat aan de partijen gesleuteld, maar dat levert een prettigere luisterervaring op. De ballad The Last Home blijft nog altijd een kippenvelmoment. Het publiek is af en toe te horen op de achtergrond, zeker tussen de nummers door. Soms kun je horen dat de shows niet goed bezocht zijn, maar op andere momenten komt het enthousiasme van de fans goed door.
Ook de bandleden laten een energieke indruk achter. Deze release is dan ook beslist het aanschaffen waard. Zeker voor de fans en voor nieuwkomers die graag op de hoogte zijn van wat Visions Of Atlantis te bieden heeft. Zoals uit Lost blijkt, hebben Clémentine en Michele nog even nodig om elkaar optimaal aan te vullen, maar ze groeien door live-ervaring op te doen vast steeds meer naar elkaar toe.
Tracklist:
1. Intro
2. The Deep & The Dark
3. New Dawn
4. Book Of Nature
5. Ritual Night
6. Siegfried's Farewell
7. Lost
8. The Silent Mutiny
9. The Last Home
10. Words Of War
11. The Grand Illusion
12. Passing Dead End
13. Return To Lemuria
Reviewer: Jeffrey
Toegevoegd: 10 maart 2019 Koop dit album in
Meer Visions Of Atlantis: