Delain - A Decade Of Delain: Live At Paradiso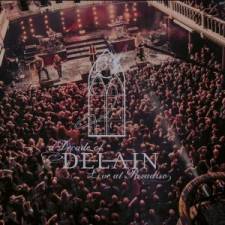 Op 10 december vorig jaar stond Delain in Paradiso te Amsterdam ter ere van het tienjarige jubileum van de symfonische metalband. Daarvan deden we destijds
verslag
. Inmiddels is de dvd/dubbel-cd/blu-ray een feit, een mooie vereeuwiging van een bijzonder en memorabel optreden van bijna twee uur met diverse gastmuzikanten. De dvd/blu-ray bevat een documentaire, een live-opname van
We Are The Others
(Live At Master Of Rock 2015) en de officiële video van
Suckerpunch
.
Zowel voor degenen die erbij waren als de mensen die net naast een kaartje grepen, is A Decade Of Delain: Live At Paradiso een aanwinst voor de collectie. Het enthousiasme van de band en de fans is treffend vastgelegd. De fans laten zich regelmatig horen, al direct bij Hands Of Gold (met gastoptreden van Alissa White-Gluz) en Suckerpunch. De sfeer zit er vanaf het begin goed in.
Het geluid is uitstekend. Zo hoor je bepaalde details terug, zoals het basspel van Otto in Get The Devil Out Of Me (met springende fans en bandleden), het getokkel tijdens Where Is The Blood en de xylofoon in Here Come The Vultures. Uiteraard zijn de oneffenheden in de studio weggepoetst. Zo zat Burton C. Bell van Fear Factory tijdens het zelden gespeelde Where's The Blood er met zijn cleane zang wel eens naast, maar klinkt deze op deze release zuiver.
Het optreden is goed in beeld gebracht. Soms zijn er de gebruikelijke onder- en overbelichtingsproblemen, maar doorgaans zijn de muzikanten goed te zien, mede door de camera die aan een mobiele arm is bevestigd. Veel details zijn mooi vastgelegd, zowel van de band als close-ups van fans. Neem bijvoorbeeld het vallen van de stardust tijdens The Hurricane of het "I'm in it… for the beat'-moment aan het einde van Here Come The Vultures. Ook de gastmuzikanten (Liv Kristine, Elianne Anemaat, George Oosthoek, Burton C. Bell en Alissa White-Gluz), songwriter Guus Eikens en oud-leden Rob van der Loo en Sander Zoer, komen goed in beeld.
A Decade Of Delain: Live At Paradiso laat de band rond Charlotte Wessels op zijn best zien. De dvd, waarvan 15% van de opbrengst naar de Sophie Lancaster Foundation gaat, is voor zowel fans als mensen die nog niet bekend zijn met de muziek van Delain, een release die tot grote tevredenheid stemt. Een goede doorsnee van songs uit de discografie staat erop en het enthousiasme van zowel de muzikanten als de fans is mooi vastgelegd. De technische problemen zijn handig weggeknipt en de virtuele gast Marco Hietala is prachtig in beeld gebracht. Hij is samen met Delain op 31 oktober in TivoliVredenburg te zien tijdens de Danse Macabre-tour. Gaat dat zien!
Tracklist:
Disc 1:
1. Intro (The Monarch)
2. Hands Of Gold
3. Suckerpunch
4. The Glory And The Scum
5. Get The Devil Out Of Me
6. Army Of Dolls
7. The Hurricane
8. April Rain
9. Where Is The Blood
10. Here Come The Vultures
11. Fire With Fire
12. The Tragedy Of The Commons
13. Danse Macabre
14. Sleepwalker's Dream
15. Your Body Is A Battleground
16. Stay Forever
17. See Me In Shadow
18. The Gathering
19. Pristine
20. Mother Machine
21. Sing To Me
22. Don't Let Go
23. We Are The Others
Disc 2:
1. We Are the Others - A Decade Of Delain Documentary
2. We Are the Others (Live At Master Of Rock 2015)
3. Suckerpunch (Official Music video)
Reviewer: Jeffrey
Toegevoegd: 18 oktober 2017 Koop dit album in