Exodus en Lost Society
Op 25 maart 2016 in Melkweg, Amsterdam
Een review door Wessel
Foto's door Kick from Holland
Recensies van retro-thrashbands zijn even inwisselbaar als hun muziek. Wat kan je er namelijk meer over zeggen, dan dat elke riff te herleiden is tot de tijdloze thrashklassiekers? En dat dat bij vlagen best lekker, maar nergens memorabel wordt? Met de Finnen van Lost Society is het niet anders. Dankzij het jeugdige enthousiasme is het optreden echter best vermakelijk en de muziek is catchy genoeg om de eerste enthousiaste reacties en voorzichtige moshpits uit het publiek los te maken. Maar of ik er nog eens naar zal luisteren...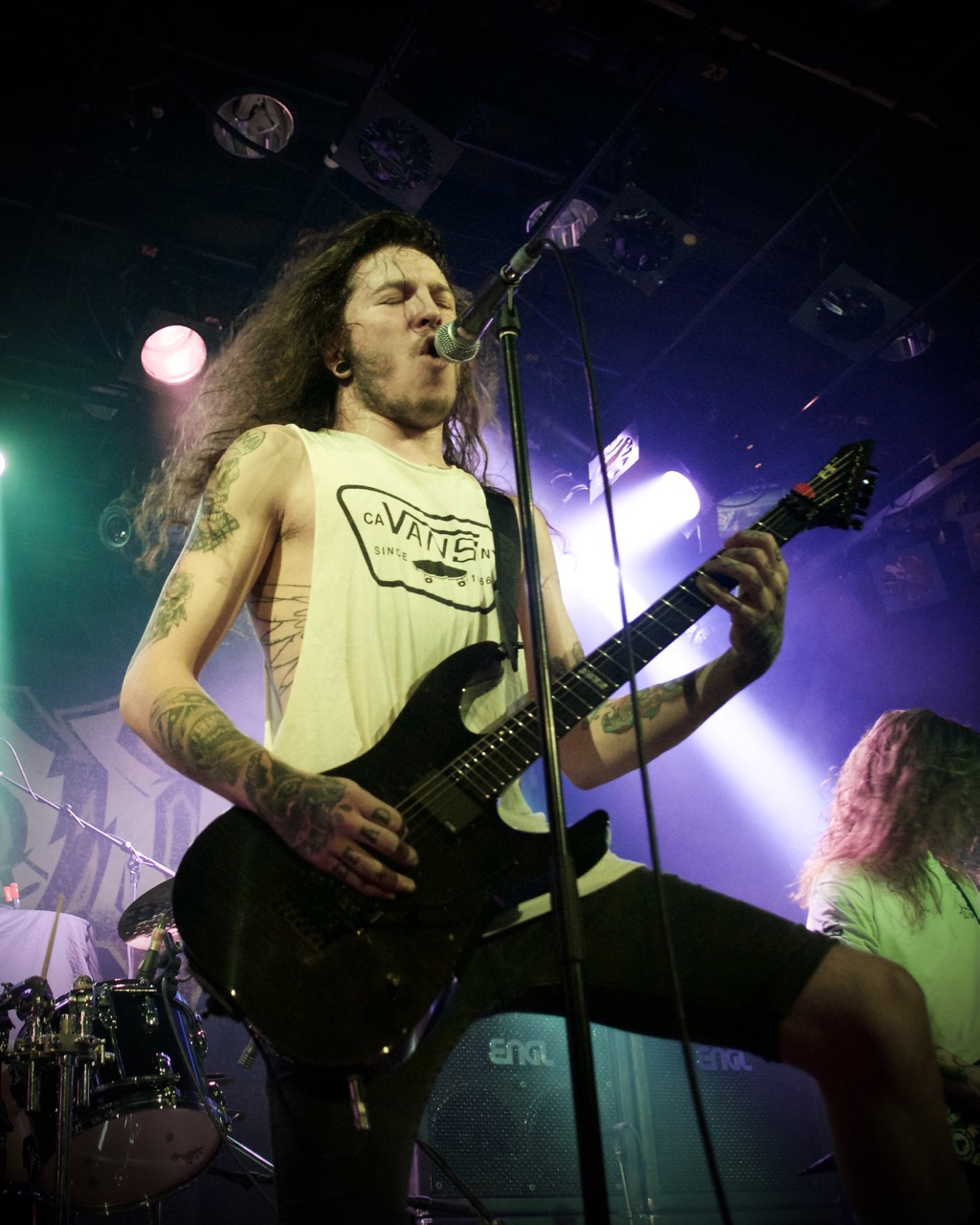 Het is alweer anderhalf jaar geleden dat Rob Dukes baan maakte voor de terugkeer van Steve 'Zetro' Souza en Exodus met hem achter de microfoon het over het algemeen positief ontvangen Blood In, Blood Out uitbracht. Afgelopen zomer werden de festivals aangedaan en nu is het tijd voor een headlinetoernee. Oprichter en belangrijkste componist Gary Holt ontbreekt daarbij echter, wegens toerverplichtingen met Slayer.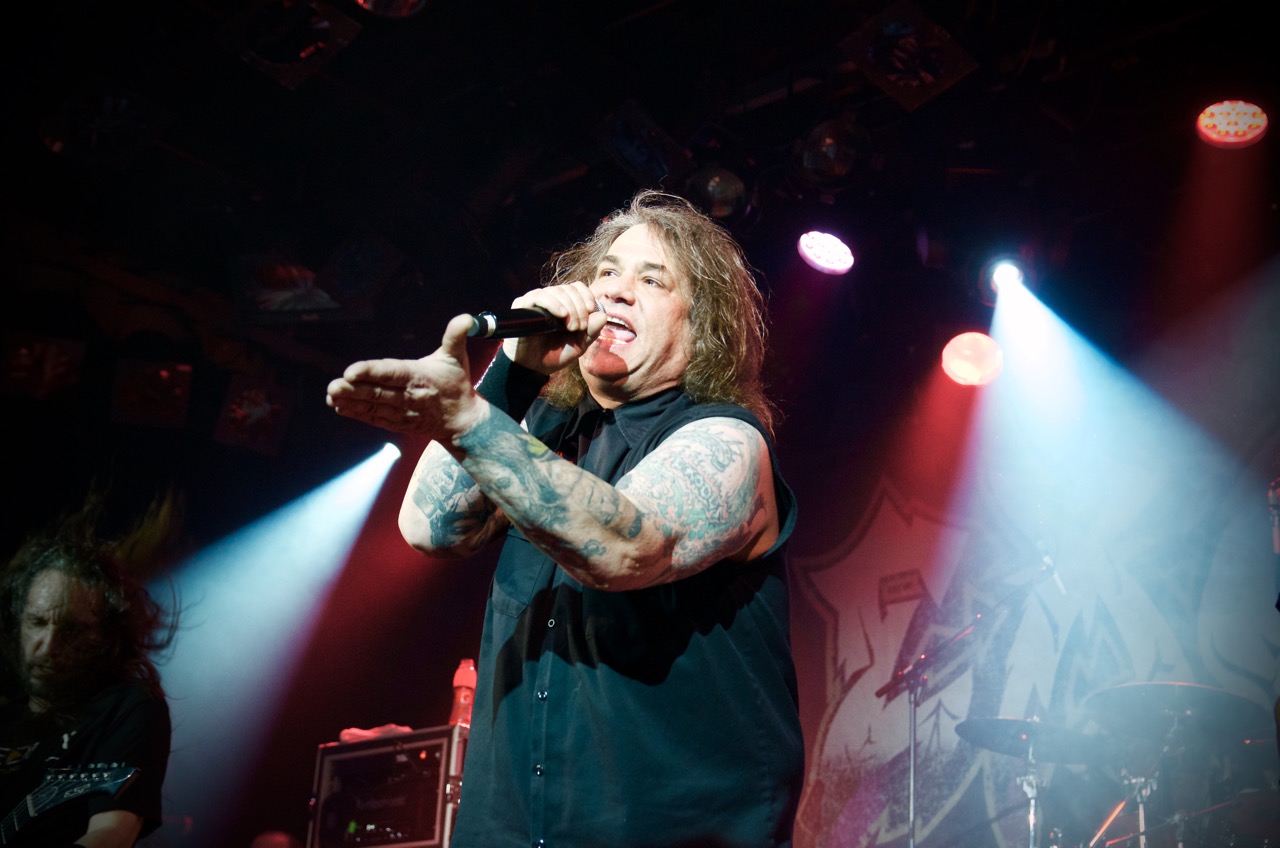 Desondanks is het onmiskenbaar Exodus dat op de bühne staat vanavond. En de heren verkeren ook nog eens in topconditie! Gitarist Kragen Lum kreeg vanwege zijn rol als lid van Heathen van de kenner al het voordeel van de twijfel, maar is vanavond perfect op tweede gitarist Lee Altus ingespeeld. Tom Hunting is simpelweg een zwaar onderschatte drummer en vormt met bassist Jack Gibson een solide basis. En Zetro? Die wordt als een held ontvangen en uit zijn dankbaarheid daarvoor door keer op keer te vertellen hoe geweldig hij het vindt om zijn vrijdagavond met ons in Amsterdam door te brengen.
Zijn terugkeer houdt gelukkig niet in dat de albums zonder hem op zang genegeerd worden. Na Black 13 en de titeltrack van Blood In, Blood Out krijgen we namelijk het geniale en uitgesponnen Children Of A Worthless God voor de kiezen, waarbij gerefereerd wordt aan de verschrikkelijke gebeurtenissen in Brussel eerder deze week. En met Metal Command van het legendarische debuut Bonded By Blood (1985) wordt een blik klassiekers opengetrokken waar elke aanwezige thrashfanaat U tegen zegt! Jong en oud begeeft zich in de pit op de onweerstaanbare nummers als Piranha, A Lesson In Violence, Blacklist en War Is My Shepherd. Ook de eerste stagedivers laten niet lang op zich wachten en al snel staat de Oude Zaal van de Melkweg volledig op zijn kop. Het is eigenlijk alsof we naar een concert van een jaar of vijfentwintig geleden staan te kijken!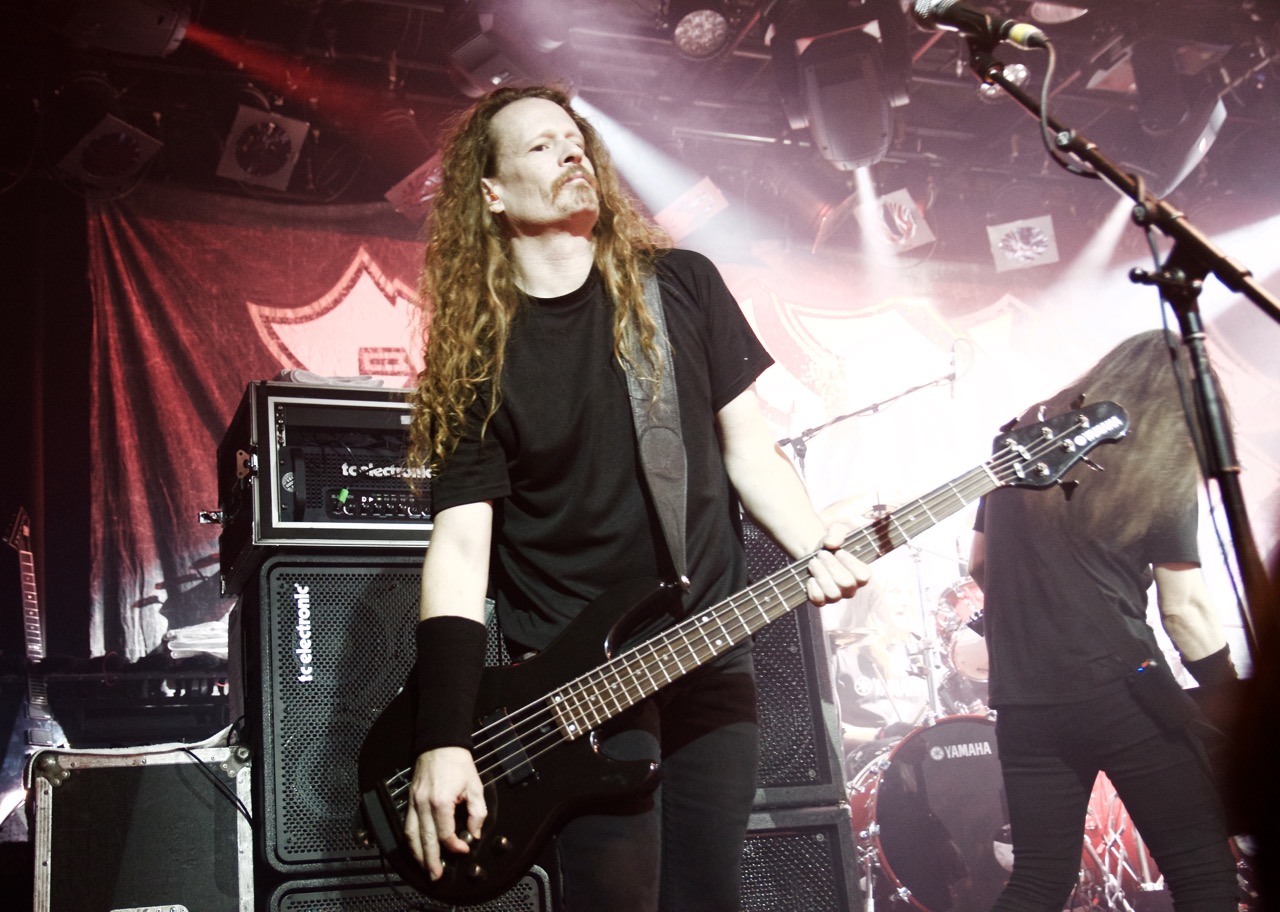 Geen Exodus-concert is compleet zonder Bonded By Blood, The Toxic Waltz en Strike Of The Beast, inclusief wall of death. Zo ook vanavond niet. Daarna kunnen zowel band als publiek de zaal moegestreden maar voldaan verlaten. Uw recensent heeft Exodus al erg vaak gezien, maar moet concluderen dat dit zeker een van de meest memorabele keren was!
Setlist Exodus:
1. Black 13
2. Blood In Blood Out
3. Children Of A Worthless God
4. Deranged
5. Salt The Wound
6. Body Harvest
7. Metal Command
8. Piranha
9. Blacklist
10. A Lesson In Violence
11. Impaler
12. War Is My Shepherd
Toegift:
13. Bonded By Blood
14. The Toxic Waltz
15. Strike Of The Beast
Met dank aan Kick Verhaegen voor de foto's.