various - Snaggletooth - A Tribute To Lemmy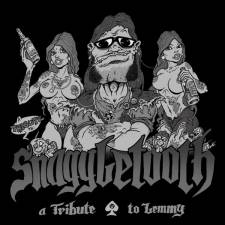 Het is bijna een jaar geleden dat de legendarische frontman van Motörhead Lemmy Kilmister op 70-jarige leeftijd overleed. Dat heeft al tot de nodige tributes en erediensten geleid. Zowel live als op plaat. Dat is niet verwonderlijk, want met zowel Motörhead als Hawkwind heeft Lemmy een enorme indruk gemaakt op een onvoorstelbaar aantal rockfans.
Snaggletooth - A Tribute To Lemmy is een plaat met daarop twaalf nummers. Drie zijn er met de grote meester zelf, er zijn acht covers van Motörhead en Hawkwind en één nummer is geïnspireerd door Hawkwind. De covers zijn gemaakt door bands met de nodige naam en faam. Zo is er van Overkill -uiteraard- een versie van Overkill te horen, geven de Duitse thrashers van Perzonal War een flinke dot gas met Burner en van Kärbholz is er een ijzersterke versie van Killed By Death. Stuk voor stuk zijn het degelijke covers. Sommige meer in de stijl van de groep die ze covert (Korpiklaani met Iron Fist), andere wat dichter bij het origineel (Ace Of Spades door Ugly Kid Joe met Phil Campbell). Monster Magnet zet een bijzonder verdienstelijke cover van acht minuten neer van Hawkwinds Brainstorm. De psychedelische formatie Black Explosion komt met het eigen nummer Location 9 dat is geïnspireerd door Hawkwind waarbij het een en ander wordt geleend van Brainstorm.
Lemmy zelf is te horen tijdens het duet Love Me Forever met de Duitse metalgodin Doro Pesch, de Queen-cover Tie Your Mother Down en het aardige Rock City Night dat Lemmy maakte met Rammstein-gitarist Richard Kruspe. Bij elkaar is het een aardige verzameling nummers die we eigenlijk allemaal al eens hebben kunnen vinden als bonustrack of ouderwets b-kantje. Niet dat dat iets zegt over de kwaliteit van de twaalf tracks die deze schijf telt, want die is dik in orde. Het bijbehorende boekje is opgeleukt met anekdotes van de coveraars over Lemmy en zijn muziek.
Tracklist:
1. Overkill - Overkill
2. Onslaught - Bomber
3. Lemmy Kilmister & Doro Pesch - Love Me Forever
4. Ugly Kid Joe & Phil Campbell - Ace Of Spades
5. Lemmy Kilmister - Tie Your Mother Down
6. Kärbholz - Killed By Death
7. Lemmy Kilmister & Richard Kruspe - Rock City Night
8. Destruction - We Are The Roadcrew
9. Perzonal War - Burner
10. Korpiklaani - Iron Fist
11. Monster Magnet - Brainstorm
12. Black Explosion - Location 9
Reviewer: Walter
Toegevoegd: 3 december 2016