Månegarm - Månegarm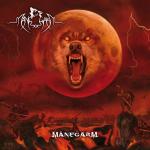 Af en toe maak ik graag eens uitstapjes buiten mijn comfortzone. Ik zou gek worden als ik alleen maar hardrock en traditionele metal zou beluisteren. Zolang het niet te vrolijk of overdreven wordt, mag ik best eens naar pagan en black metal luisteren. Geen Korpiklaani voor mij dus, maar Månegarm gaat er best in. Als de recensisten die zich hier doorgaans mee bezig houden het te druk hebben, wil ik best wel even bijspringen.
Månegarm is geen totaal onbekende voor mij. Ooit had ik Vargaresa – The Beginning in de kast staan, dat het vroegste werk van de band bevat. Wat nu voor me ligt, is de jongste telg en de verschillen kunnen haast niet groter zijn. Echte black metal hoor je hier niet en dat zal voor veel fans ongetwijfeld geen verrassing zijn. Månegarm zoekt niet de extremen op, maar blijft erg vaak bij rustige folkpassages hangen. Dat pakt soms goed uit, zoals in Tagen Av Daga het geval is. Dit is een heel fijn nummer in de beste Finntroll-traditie. Folklorische elementen kunnen heel tof zijn, maar Vigverk – Del II slaat toch wel een beetje door met het zangeresje. Het is niet slecht, maar wel erg lichtvoetig in vergelijking met de rest van het materiaal. Maar als ik heel eerlijk moet zijn, in Allfader past het wel.
Månegarm vierde in 2015 zijn twintigste verjaardag. Je kunt een aantal opmerkingen maken over hun nieuwe, titelloze plaat. Het is niet het beste werk van dit kwartet, maar wel een prima plaatje om je jubileum mee te vieren. Månegarm is een (soms iets te) gevarieerd album dat prima te behappen is. Er is van alles te vinden tussen het kazige Odin Owns Ye All en het krijgshaftige Kraft. De dagen van Dödsfärd en Vredens Tid zullen niet meer terugkeren, maar Månegarm is in elk geval een stabiele, sympathieke band. Dat is na twintig jaar niet veranderd.
Tracklist:
1. Blodörn
2. Tagen Av daga
3. Odin Owns Ye All
4. Blot
5. Vigverk - Del II
6. Call Of The Runes
7. Kraft
8. Bärsärkarna Från svitjod
9. Nattramn
10. Allfader

Score: 74 / 100

Reviewer: Ruud
Toegevoegd: 6 februari 2016