RAM vs Portrait - Under Command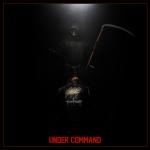 Ik dacht dat 'battles' meer een hiphopdingetje waren. Je kent het wel: iemand uitdagen om improviserend te rappen of dansen, waarbij je de ander belachelijk maakt. Daarvoor gaan we in ons metalwereldje elk geval te vriendschappelijk met elkaar om. Zo ook RAM en Portrait. Twee Zweedse bands die al een lange tijd op goede voet met elkaar leven. Dit schijfje is dan wel verpakt als een soort strijd, maar we hebben hier met een ouderwetse split te maken.
Het idee is in elk geval erg leuk. Beide bands dragen een nieuw nummer aan, coveren elkaar en kiezen vervolgens een andere cover. RAM kennen we natuurlijk van de Priest-achtige aanpak en Savage Machine is dan ook geheel in die trend geschreven. Het stampt prima door en de melodie is goed, maar het nummer zelf klinkt maar doorsnee. Welcome To My Funeral is dan weer een uitstekende cover! Het kost RAM maar weinig moeite om de horrorelementen in hun muziek te verwerken en als Portrait er niet voor kiest om dit gave nummer een fatsoenlijke release te gunnen, dan doet RAM het dus wel. De Kisscover wil ik graag vergeten.
Portrait leverde eerder dit jaar een fantastische plaat af. Dat Martial Lead in het verlengde ligt, zal niemand verbazen. Voor wie het nog niet weet: Portrait zit qua sound erg dicht tegen Mercyful Fate aan. Ondanks dat de band probeert net anders te klinken, had Martial Lead zo van deze legende kunnen zijn. Het ligt vooral aan het gitaarwerk. Tegelijkertijd is dit een compliment, want het luistert goed weg. Verder geldt ook voor Portrait dat de cover het beste nummer is. RAM heeft natuurlijk meer gave songs, maar ook Blessed To Be Cursed is er een die enkel op een redelijk obscure EP staat.
Het is een leuk product van twee bands die duidelijk veel respect voor elkaar hebben. Ik ga dan ook geen winnaar aanwijzen. Dat mogen de fans zelf doen. Beide groepen hebben niet hun beste song uitgeleend aan deze split en daarmee zijn eigenlijk vooral de wederzijdse covers interessant. Een leuk hebbedingetje voor de echte fans.
Tracklist:
1. RAM - Savage Machine
2. RAM - Welcome To My Funeral (Portrait cover)
3. RAM - Creatures Of The Night (KISS cover)
4. Portrait - Martial Lead
5. Portrait - Blessed To Be Cursed (RAM cover)
6. Portrait - Aggressor (Exciter cover)

Reviewer: Ruud
Toegevoegd: 15 december 2014
Meer RAM vs Portrait:
RAM vs Portrait - Under Command
Reactie van Metal Meepy op 15-12-2014 om 22:47u

Inderdaad leuk idee. Seasons of Mist deed dit eind jaren 90 ook met hun 'War' serie, met in elk geval "...And Oceans vs. Bloodthorn" en "Anata vs. Bethzaida". Ik hou wel van dat soort experimentjes.