Beneath (Zwe) - Antidote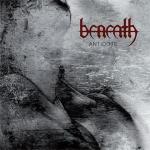 Wanneer je als band twintig jaar bestaat voordat je met een debuutalbum op de proppen komt, dan lijkt me dat er iets grondig mis is. Wat heb je al die jaren in godsnaam gedaan? En dan kondigen deze Zweden nog doodleuk aan dat het 'in principe' bij een plaat moet blijven. Wat wil je dan eigenlijk bereiken? Je snapt al dat het bijna interessant is om de band voor een interview uit te nodigen.
Als de muziek nou bijzonder was, dan was ik niet zo verontwaardigd aan deze review begonnen. Het probleem is dus: dat is het niet. Beneath laat op hun voorlopig laatste plaat vooral jatwerk horen van Destruction. Veel meer dan de gebruikelijke portie opgefokte death/thrash krijg je op Antidote niet te horen. De op de promosheet beloofde twinsolo's op gitaar zijn uitzonderlijk dun, de zelfverklaarde furiositeit klinkt erg gemaakt en de songwriting klinkt gemiddeld. Wat variaties hier en daar kunnen geen potten breken. Het gekrijs van de zanger dreigt regelmatig uit de bocht te vliegen. Zelfs het artwork ziet er zielloos uit. Het zal wel duidelijk zijn dat Beneath niet de moeite waard is.
Tracklist:
1. Vengeance I Breathe
2. Reasons Undefined
3. Blissfully Numb
4. Harvest Of Mankind
5. Fear Vs Hate
6. In The Shadow Of The Beat
7. Everything Ends
8. Killed In The Woods
9. The Antidote

Score: 40 / 100

Reviewer: Ruud
Toegevoegd: 4 augustus 2014
Meer Beneath (Zwe):
Reactie van oscar op 04-08-2014 om 16:36u
Waarom in godsnaam moet je een recensie hieraan besteden?
Reactie van jt op 04-08-2014 om 21:50u
Ach, dit is nu ongeveer zo mijn humor.
Reactie van Een Metalfan op 04-08-2014 om 22:18u
doe eens meer retro reviews.
Reactie van Een Metalfan op 05-08-2014 om 22:18u
ik dank Uw voor een nieuwe retro.