various - Roadrunner Roadrage 2003 (DVD)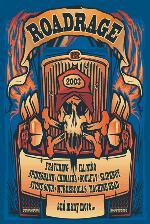 Vorig jaar kwam er ter gelegenheid van de 20e verjaardag van Roadrunner Records de Roadrage dvd uit, en werd een Roadrage tour in de VS en Europa georganiseerd. Dit was blijkbaar een succes, want de Roadrage tour werd dit jaar ook georganiseerd, en er is een nieuwe Roadrage dvd uitgebracht. Gaan ze dit nu elk jaar doen?
Net als op de vorige staat de Roadrage 2003 vol met videoclips van de diverse bands op Roadrunner Records. 22 clips om precies te zijn. Het betreffen voornamelijk clips van de huidige generatie Roadrunner bands (denk aan Spineshank, Stone Sour, Murderdolls, Chimaira, etc), aangevuld met wat oudere clips van bands, waarvan sommigen zelfs al niet eens meer bij Roadrunner zitten (zoals bijvoorbeeld Sepultura, of het inmiddels weer uit de as gerezen Life Of Agony). Wat kan je verder van zo'n dvd zeggen? Leuk voor wie de clips wil zien (want op tv komen ze toch nauwelijks voorbij), en het is toch best tof om de wat oudere clips te kunnen kijken.
De tracklist:
1. Slipknot - My Plague (New Abuse Mix)
2. Soulfly - Back To The Primitive
3. Killswitch Engage - Fixation On The Darkness
4. Ill Nino - Unreal
5. Ill Nino - God Save Us
6. Coal Chamber - Loco
7. Spineshank - Smothered
8. Spineshank - Synthetic
9. Fear Factory - Resurrection
10. Machine Head - The Blood, The Sweat, The Tears (live)
11. Sepultura - Roots Bloody Roots
12. Chimaira - Down Again
13. Chimaira - Sp Lit
14. Type O Negative - I Don't Wanna Be Me
15. Stone Sour - Inhale
16. Murderdolls - White Wedding
17. Sinch - Tabula Rasa
18. Theory Of A Dead Man - Nothing Could Come Between Us
19. Nickelback - Too Bad
20. Life Of Agony - Weeds
21. Downthesun - Medicated
22. The Misfits - Scream
Reviewer: Tonnie
Toegevoegd: 28 september 2003
various - Roadrunner Roadrage 2003 (DVD)
Reactie van Een_Metalfan op 28-09-2003 om 01:21u

mooi lijstje, en hopelijk net als zijn voorganger, ook voor een mooi prijsje