Ascension (Sch) - Far Beyond The Stars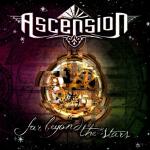 Ondanks dat de Schotse powermetalformatie Ascension al in 2004 het levenslicht zag, is Far Beyond The Stars hun eerste langspeler die volgt op een serie van EPs. Het debuut is geproduceerd door Andy LaRocque en bevat tien eigen nummers en een cover van de Roxetteklassieker Listen To Your Heart.
Eigenlijk vertelt opener Somewhere Back In Time het hele verhaal van de groep al. Het is powermetal die vanwege het idioot snelle dubbele gitaarwerk vooral doet denken aan Dragonforce, maar helaas het niveau van die groep niet haalt. Wat betreft instrumentatie is het nog wel te doen, maar vooral de zang doet afbreuk aan het totaalplaatje. Zanger Ricki Carnie doet zijn best, maar het lukt hem vooral in de hogere regionen niet om veel indruk te maken. Beter doet hij het dan in de ballad Moongate en de cover Listen To Your Heart, maar een groot talent is hij niet te noemen.
De matige vocalen zorgen er voor dat de vrij lange songs op den duur gaan vervelen en richtingloos aanvoelen, iets wat misschien minder het geval zou zijn geweest wanneer de zanglijnen voor rekening waren genomen door een stevigere set stembanden. Het moet wel gezegd worden dat de instrumentatie zeer rijk is en elke instrumentalist goed te horen is in de productie van LaRocque. Zo zijn er bijvoorbeeld echt fantastische baslijnen te ontdekken in The Time Machine en zit er meer verborgen tussen het extreem rappe gitaargeweld. Het is echter de vraag of het de moeite is om daar naar op zoek te gaan wanneer de songs niet echt interessant blijven door de matige zang.
Tracklist:
1. Somewhere Back In Time
2. Blackthorne
3. Reflected Life
4. Heavenly
5. Moongate
6. Orb Of The Moons (Instrumental)
7. The Silver Tide
8. The Time Machine
9. Far Beyond The Stars (Instrumental)
10. The Avatar (Ascension)
11. Listen To Your Heart (Roxette-cover)
Score: 63 / 100

Reviewer: Walter
Toegevoegd: 9 november 2013
Meer Ascension (Sch):
Ascension (Sch) - Far Beyond The Stars
Reactie van Een Metalfan op 09-11-2013 om 22:54u

wat een zooi!