various - AFM Records 15 Years Metal Addiction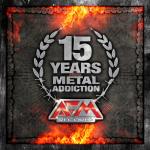 In een periode waarin veel grote en kleine labels over de kop zijn gegaan, heeft het Duitse AFM Records zich inmiddels al vijftien jaar staande weten te houden. Een mooi moment om dat te vieren met een groots festival dat in november 2011 plaats heeft gevonden en deze driedelige sampler met daarop een enorme keuze uit de AFM Records-stal.
Dat veel musici zich bij AFM thuis voelen, blijkt uit de grote diversiteit aan stijlen en namen die we bij AFM en op deze sampler aantreffen. De eerste twee schijfjes bevatten voornamelijk hardrock, heavy en power metal. Hier en daar is er ook nog wat ruimte voor wat prog, maar het merendeel bestaat uit de melodieuze gitaarmelodieën die typerend zijn geworden voor de Duitse metal van de afgelopen tien jaar. Op het laatste schijfje is er ruimte voor de hardere bands die het label ook onder haar hoede heeft. Aan kwaliteit en diversiteit geen gebrek, en nog voor een schappelijke prijs ook.
Toch kan een klein punt van kritiek niet ontbreken en dat is het gegeven dat het toch veelal gaat om oud materiaal en songs die allemaal al eens eerder te horen zijn geweest. Geen bijzondere opnieuw opgenomen tracks, geen grappig nummer om de verjaardag van het label te vieren en ook geen bonustrack die ooit eens op een obscure single uit Japan heeft gestaan en nu niet meer te vinden is. Deze jubileumcollectie weet helaas de benaming sampler niet te ontstijgen. Het is een enigszins gemiste kans, en werpt toch een schaduw over deze uitgave. Niet te veel getreurd, want tussen de 54 tracks zitten enkele juweeltjes van een aantal geweldige metalbands. Shout it out and play it loud om het nummer van Iron Savior op de eerste schijf aan te halen; op naar de volgende vijftien jaar AFM Records.
Tracklist:
CD1:
1. U.D.O. - 24/7
2. Avantasia - Avantasia ( Single Version)
3. Dragonland - The Black Mare
4. Iron Mask - Broken Hero
5. Masterplan - Soulburn
6. Brainstorm - Temple of Stone
7. Morton - Brotherhood Of Light
8. Iron Savior - Heavy Metal Never Dies
9. Circle II Circle - Watching In Silence
10. Crystal Viper - Night Of The Sin
11. OZ - Dominator
12. At Vance - The Evil In You
13. Jon Oliva's Pain - The Evil Beside You
14. Sinner - Back On Trail
15. Mob Rules - Astral Hand (Edit)
16. Heavenly - Lost Your Eyes
17. Bloodbound - Drop The Bomb
18. Squealer - My Last Goodbye

CD2:
1. Doro - Celebrate
2. Voodoo Circle - No Solution Blues
3. Edguy - Vain Glory Opera
4. Eden's Curse - Trinity
5. The New Black - Batteries & Rust
6. A Life Divided - Heart On Fire
7. Dark Age - Devote Yourself To Nothing
8. Epysode - Obsessions
9. Stahlmann - Stahlwittchen (Single Version)
10. Lyriel - The Regret
11. Danzig - On A Wicked Night
12. Orden Ogan - Farewell
13. Elvenking - The Divided Heart
14. Shakra - B True B You
15. Triosphere - Human Condition
16. Magica - Hold On Tight
17. Theatre Of Tragedy - Storm
18. Eisbrecher - Böse Mädchen

CD3:
1. Onslaught - Godhead
2. Solution .45 - Bladed Vaults
3. Fear Factory - Powershifter
4. Ektomorf - Redemption
5. Tankard - Rectifier
6. Black Messiah - The Vanire Tribe
7. Suidakra - Dowth 2059
8. Debauchery - Zombie Blitzkrieg
9. Byfrost - Buried Alive
10. Korzus - Raise Your Soul
11. Lake Of Tears - Midnight Madness
12. Rev 16:8 - Ashlands
13. Destruction - Soul Collector
14. Paradox - Collision Course
15. Ill Nino - God Is For The Dead
16. Betzefer - Bestseller
17. Athorn - Angel Of The Fall
18. Buried In Black - The Bait
Reviewer: Walter
Toegevoegd: 8 januari 2012
Reactie van Andrê Smoor op 08-01-2012 om 22:41u
Goede recensie, ben het alleen niet helemaal eens met het minpuntje. Met deze verzameling willen ze laten zien wat er zo al wordt uitgebracht. Dit soort cd's is leuk om eens wat andere bands (wat nog niet in de verzameling is) te leren kennen. Vond het wel jammer dat er deze keer geen dvd met promo clips bij zat, die bij de twee reguliere verzamelaars van dit label wel bij zaten. Score overbodig, maar leuke cd voor in de auto.
Reactie van iron_dennis op 09-01-2012 om 07:46u
Deze doet het ook goed in de auto: Anal Cunt - The Old Testament.