Badly Preserved - Decades Of Denial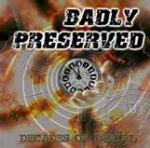 Ik zag dit bandje ooit twee jaar geleden ergens in een café. Ik kan me eigenlijk niet veel van dat concert herinneren buiten het feit dat ik ze gezien heb. Deze band komt net zoals ondergetekende uit Zeeland. Dit nieuwe album is wederdom (net zoals hun debuut) in eigen beheer uitgebracht. De band verzorgt zelf de gehele productie, het artwork en de distributie van deze cd.
De band speelt 'moderne metal', een mengeling van rustige Machine head, de betere nu metal en rock muziek. De 11 composities klinken erg afwisselend en vooral boeiend. Opener 'Blueprint' doet me een beetje denken aan Machine head terwijl een track als 'Running on empty' me doet denken aan een goede rockband. Kortom afwisseling is troef. De zangpartijen zijn erg sterk net zoals de gehele sound van dit album. Duidelijk geen album dat is opgenomen in de schuur van één of andere plaatselijke boer. De teksten gaan over het dagelijks leven en zijn beslommeringen. Niet slecht moet ik zeggen.
Dit album zal de band, als ze dat willen, wel aan platencontract kunnen helpen. En natuurlijk veel optredens versieren, want daar draait het uiteindelijk toch om. Liefhebbers van emotionele moderne rock/metal moeten dit maar eens beluisteren. Want slecht is het zeker niet! Integendeel, vind het moeilijk om negatieve eigenschappen te vermelden want die zijn er niet echt. Alhoewel het songmateriaal altijd sterker kan. Binnenkort zal ik dit bandje nog maar eens gaan bekijken en nuchter blijven zodat ik me nog kan herinneren of ze live even sterk zijn als op deze cd.
Tracklist:
1. Blueprint
2. Reasons
3. D.O.D.
4. Running on empty
5. Alteration
6. Trapped in a child's mind
7. Silent scream
8. Fragments
9. Clear again
10. Random numbers
11. Adjust
Score: 78 / 100

Reviewer: Kristof
Toegevoegd: 9 juli 2003