Nadja & oVo - The Life And Death Of A Wasp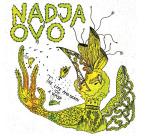 Hoewel de kolossale output van Nadja wellicht anders doet vermoeden, is veel van het materiaal dat Aidan Baker en Leah Buckareff produceren zeer de moeite waard. Eerder deze maand besprak ik nog het epos
Thaumogenesis
, dat wat mij betreft gemakkelijk tot een van de vele hoogtepunten uit de omvangrijke discografie van de band gerekend mag worden. Toch zit er ook een aantal missers in die discografie. Opmerkelijk genoeg zijn dat vaak de split-releases (of samenwerkingen) met andere bands.
U raadt het al: The Life And Death Of A Wasp is een typisch voorbeeld van zo'n misser. Voor dit album werkte Nadja samen met de mij volstrekt onbekende band oVo. Qua thematiek is het album gebaseerd op ware gebeurtenissen: een wesp die tijdens een gezellig koffiekransje in de achtertuin van de bandleden per ongeluk met een schep suiker in de koffie belandt en zo op onfortuinlijke wijze aan zijn eind komt. Een ridicuul uitgangspunt dat haast banaal in zijn oppervlakkigheid is, zeker wanneer we de epische soundscapes die Nadja normaliter produceert in ogenschouw nemen.
Het (enige) positieve aan het album is dat beide bands er verrassend goed in slagen om dat uitgangspunt in muziek om te zetten. De bizarre effecten van Movement 1: A Wasp Flying Around The Sugar Jar klinken precies zoals de titel weergeeft. Helaas bestaat het nummer uit weinig meer dan wat willekeurige effecten en matig geïmproviseerde ambientklanken, totdat 'zangeres' Stefania Pedretti na ruim zeven minuten begint te mekkeren. Haar vocale aanpak is het meest opmerkelijke aan dit album. Ik heb nog nooit zo'n bizar arsenaal aan stemmetjes gehoord. Hoewel Pedretti erin slaagt om een wesp in doodsstrijd op vakkundige wijze na te doen, betwijfel ik of er veel luisteraars zijn die daar ook met plezier naar zullen luisteren.
Deze vocale performance alleen al is genoeg om iedereen gillend te doen wegrennen, maar daar komt bij dat The Life And Death Of A Wasp ook in compositorisch opzicht buitengewoon pover is. Hoewel Nadja normaliter in staat is om epische, verpulverende soundscapes te smeden, klinkt dit album als los zand. Bovendien kabbelt het allemaal veel te veel voort zonder ergens écht stevig te worden. Nee, The Life And Death Of A Wasp is niet meer dan een fragmentarische verzameling onzin. Nadja is tot veel beter in staat.
Tracklist:
1. Movement 1: A Wasp Flying Around The Sugar Jar
2. Movement 2: Trapped In The Jar
3. Movement 3: Put Some Sugar In My Cup, Please
4. Movement 4: Drowned In Coffee

Score: 50 / 100

Reviewer: Rik
Toegevoegd: 22 augustus 2011
Meer Nadja & oVo: