Ill Niño - Dead New World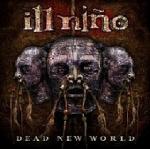 Dit uit New Jersey/New York afkomstige gezelschap brengt al sinds 2000 met enige regelmaat aardige cd's op de markt. Na een drietal releases bij Roadrunner en het in 2008 verschenen
Enigma
bij het dubieuze Cement Shoes Records uit Hollywood, komen deze Latino's met een zelfgeproduceerde schijf op de proppen. Ditmaal uitgebracht door het Duitse AFM label, dat ervoor moet zorgen dat niet ook deze release geheel onopgemerkt aan onze metalen neuzen voorbij gaat.
Zoals bekend maakt de band een kruisbestuiving van nu-metal, hardcore en Latijns-Amerikaanse tribalritmes. Op dit album is echter bewust meer de richting van bands als P.O.D., Linkin Park en Sevendust ingeslagen. Natuurlijk heeft Ill Niño nog lang niet de status en identiteit van eerdergenoemde bands of een band als Soulfly. Het is dan ook maar de vraag of de band de status van de eeuwige belofte kan ontstijgen.
Zijn typerende 'tribal Latin rhytms' en flamenco gitaren zijn er nog steeds, alleen minder nadrukkelijk aanwezig en veel subtieler toegepast. De nadruk van deze release ligt vooral op zanger Machado en de zeer harmonieuze melodielijnen, die uiterst radiovriendelijk en dus commercieel te noemen zijn. Niks mis mee overigens!
Dat Clint Lowery (Sevendust) en Sahaj Ticotin (RA) zich hebben bemoeid met het geheel, heeft geresulteerd in een zeer prettig in het gehoorliggende productie. Daarna werd de gehele handel nog eens onderhanden genomen door eindmixer Eddie Wohl (36 Crazyfists, Anthrax) en dan mag je ook wel een swingend schijfje verwachten.
Dit sextet weet op Dead New World zeker niet te vernieuwen, maar welke band kan dit nog wel tegenwoordig?! Het is gewoon een zeer goed album geworden met als uitschieters de opener God Is For The Dead, de meezinger Against The Wall, het meeslepende Bleed Like You, het Killswitch Engage-achtige If You Were Me, het opgefokte Killing You, Killing Me en het vetbeukende Ritual. De Smashing Pumpking-cover Bullet With Butterfly Wings is een track waarover je kunt discussiëren. Ik vind hem wel aardig, maar het origineel blijft natuurlijk onovertroffen.
Met Dead New World bewijst Ill Niño nog lang niet afgeschreven te zijn en dat de band heeft geleerd van eerder uitgebrachte tegenvallers zoals Enigma. Nu maar hopen op de langverwachte doorbraak...
Tracklist:
1. God Is For The Dead
2. The Art Of War
3. Against The Wall
4. Mi Revolución
5. Bleed Like You
6. Serve The Grave
7. If You Were Me
8. Ritual
9. Killing You, Killing Me
10. How Could I Believe
11. Bullet With Butterfly Wings
12. Scarred
Score: 80 / 100

Reviewer: Dennuz
Toegevoegd: 24 december 2010
Meer Ill Niño:
Reactie van gemini op 26-12-2010 om 07:25u
Flamingogitaar? Is die gemaakt van roze vogels en moet je die bespelen met 1 been omhoog? Je bedoelt waarschijnlijk flamenco.