Gandhi's Revenge - Geen ID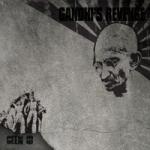 Kennelijk is Gandhi's Revenge momenteel de beste band van Almere. Of dat een positief of negatief iets is, laat ik graag aan de lezer over, want ik ken verder geen bandjes uit Almere. Feit is wel dat Gandhi's Revenge de leuke maar wisselvallige EP
Geen ID
heeft uitgebracht. De heren maken hardcore-punk-thrash-metal in het straatje van The Misfits en The Exploited, maar er zijn nog veel meer invloeden te horen. Het geheel ligt lekker in het gehoor en de productie is van een redelijk niveau.
De wisselvalligheid is voornamelijk te wijten aan het feit dat er een paar heel goede nummers op staan, een paar leuke nummers en een hele slechte. Laat ik beginnen met de goede. Ik Haat is een heerlijk, Nederlandstalig springnummer dat ongetwijfeld door iedereen meegebruld gaat worden: "Ik haat alles, want alles is KUT." De tweede topper is No Interest; wat een ontzettend gaaf refrein heeft dit nummer. Zonder twijfel mijn favoriet en het beste op de plaat.
Echter, het tweede nummer van de schijf, Disbelief, is niet om aan te horen. Geen idee wat er aan de hand is met de zangers bij dit nummer, maar het klinkt nergens naar. Dit is een kleurloos, saai en vals gezongen nummer, wat na een aantal keer luisteren standaard wordt overgeslagen. De rest van de nummers klinken leuk en houden de aandacht voldoende vast, maar ik hoor verder niets nieuws onder de zon. Enthousiasme is echter alom aanwezig bij de heren, en dat klinkt door in de nummers. De Engelse uitspraak is abominabel en zou echt beter kunnen.
Eigenlijk 65 punten, maar vijf punten extra voor No Interest, wat een zeer aangenaam nummer is. Best de moeite van de aanschaf waard.
Tracklist:
1. Geen ID
2. Disbelief
3. No Interest
4. Psycho
5. Silence
6. Cold War
7. Ik Haat

Score: 70 / 100

Reviewer: Tatzel
Toegevoegd: 17 maart 2010
Meer Gandhi's Revenge:
Reactie van Een Metalfan op 17-03-2010 om 15:05u
haha coole naam. en klinkt best ok