Batmobile & Peter Pan Speedrock - Cross Contamination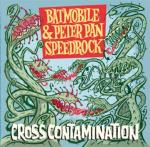 Batmobile is een band die al heel wat jaartjes meegaat. Sinds 1983 bestaan ze alweer en met hun debuut-cd was het meteen raak. Ze behoorden in één klap tot de psychobilly-royalty. In de jaren '90 werd de sound ietwat aangepast naar zogenaamde B-movie rock 'n' roll en later zijn ze zelfs een klein poosje gestopt. Maar tegenwoordig staat de band allang en breed weer de podia onveilig te maken. Dat doen ze met regelmaat met hun makkers van Peter Pan Speedrock. Deze mannen behoeven denk ik geen introductie meer. Waar Batmobile vooral furore maakt bij een hardcore-fanbase in de underground, is Peter Pan Speedrock inmiddels wel een aardig bekende in de Nederlandse rockscene. Nou moeten we ook niet overdrijven, want verder dan het 3FM publiek gaat dat niet.
Nu is het zo dat beide bands nog effe geen zin hadden in het schijven van nieuw materiaal en besloten ze een split-cd uit te brengen waarop ze vijf nummers van elkaar coveren. De Peter Pan-krakers die Batmobile covert zijn hoorbaar voorzien van het bekende psychobilly-sausje van de band. Hellalujah en vooral Straight Back To Hormoneville klinken hierdoor erg lekker en verschillen duidelijk van het origineel. Peter Pan Speedrock maakt het echter met de Batmobile-nummers niet te bont. Geen speedrock-versies, maar Transsylvanian Express en Dynamie worden in hun waarde gelaten. Hierdoor krijgen we een lekkere psychobilly-plaatje voorgeschoteld dat vooral een leuk kadootje is voor de echte fans van de twee bands.
Tracklist:
1. Hellalujah
2. Go Satan Go
3. Killerspeed
4. Big Toy
5, Straight Back To Hormoneville
6. Transsylvanian Express
7. Dead (I Want Them When They Are Dead)
8. Dynamite
9. Shoot Shoot
10. Mission Impossible
Reviewer: Rene
Toegevoegd: 10 april 2009
Meer Batmobile & Peter Pan Speedrock:
Batmobile & Peter Pan Speedrock - Cross Contamination
Reactie van Old Mhb op 10-04-2009 om 18:13u

Kadootje ? Krijgen we die dan gratis ? Raar, dat zijn we niet gewend van de hollanders !