Deathonate - Walk The Line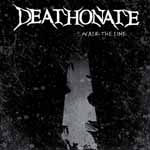 ''Ah! Dit is de Friese versie van Children of Bodom.'' Dit was het eerste wat in mijn hoofd opkwam nadat deze demo haar rondjes had voltooid in mijn stereo. Op de vocalen na lijkt deze band namelijk op een regelrechte kloon van hun Finse broeders. Dus zware gitaarstukken met een nerveus keyboardgeluid erdoorheen. Maar om nou te zeggen dat Deathonate het materiaal van hun klakkeloos aan het jatten is? Nee, dat is zeker niet het geval.
Op deze demo staan vijf tracks en dat zijn zeer interessante composities geworden. Hoewel de invloed van de eerder genoemde band duidelijk te horen is, zijn ze zeker in staat om zelf gewoon een handvol goede nummers te schrijven. Met strakke riffs, duistere ritmes, schelle vocalen en klasse solo's vullen ze de twintig minuten in met een zeer behoorlijk repetoire. Het keyboardgeluid vult alles prima aan, maar met de kanttekening dat sommige deuntjes niet helemaal bij de compositie passen. Bij het nummer Stoned 'n Cold heb ik hierdoor dan meer het gevoel dat ik naar een kerstliedje zit te luisteren dan naar een vette metaltrack.
Deathonate levert met Walk The Line een zeer degelijke en interessante demo af. Uiteraard kan er nog wat bijgeschaafd worden, maar de jongens hebben zeker talent. Het is een band die een mooie toekomst tegemoet kan gaan met dit materiaal.
Tracklist:
1. Deathrow…Walk The Line
2. Last One Standing
3. Stoned 'n Cold
4. Generation Suicide
5. Final Scream
Reviewer: Matthijs
Toegevoegd: 7 november 2008
Meer Deathonate: