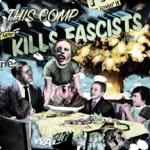 In de stijl van de
Cry Now, Cry Later
compilaties uit de jaren '90 heeft Scott Hull (Pig Destroyer en Agoraphic Nosebleed) een album samengesteld met daarop, volgens hem, enkele van de beste acts uit de underground grindcore, hardcore en power violence.
Op deze compilatie vindt je nieuw en exclusief materiaal van bands als Magrudergrind, Kill the Client, Insect Warfare, Weekend Nachos, A.S.R.A, Total Fucking Destruction, Man Will Destroy Himself, Shitstorm, Spoonful of Vicodin en Chainsaw to the Face terug. Daarnaast bevat het ook het eerste nieuwe materiaal in ongeveer 10 jaar van Agents of Satan en Brutal Truth.
Volgens Hull is het geenszins de bedoeling om voor te komen als een of andere expert in het genre maar is dit slechts bedoeld als een pretentieloos en onafhankelijk overzicht nieuwe en oude bands in het genre en dat is dan ook precies wat dit is.
Tracklist:
1. Agents of Satan - Joe Ryder (Doomryder)
2. Agents of Satan - Rape 'Em All and Let God Sort 'Em Out
3. Agents of Satan - Skrote Skin Mask
4. Agents of Satan - Kill for Baloff
5. Weekend Nachos - Prioritize
6. Weekend Nachos - If You Come Near
7. Weekend Nachos - Scars
8. Weekend Nachos - Worthless Words
9. Kill the Client - False Flag Attack
10. Kill the Client - Triple Six Bastard
11. Kill the Client - Shithouse Lawyer
12. Spoonful of Vicodin - Totally Brutal News Exposure
13. Spoonful of Vicodin - Designer Track Marks
14. Spoonful of Vicodin - I Don't Lift Weights or Drive an SUV (Because I'm Comfy with My Genitalia)
15. Spoonful of Vicodin - Put That in Your Pipe and Smoke It
16. Spoonful of Vicodin - Our Explanations Are Longer Than Our Songs
17. Spoonful of Vicodin - Confession Booth Gloryhole
18. Maruta - Behind the Steel Curtain
19. Maruta - Chemical Tomb
20. Insect Warfare - Information Economy
21. Insect Warfare - Cellgraft
22. Insect Warfare - Disassembler
23. Insect Warfare - Cancer of Oppression
24. Shitstorm - Paranoid Existence
25. Shitstorm - Burning Alive
26. Shitstorm - Brainwashed
27. Shitstorm - Victim
28. Shitstorm - Controlling
29. Shitstorm - Mince Meat Human
30. Man Will Destroy Himself - Fuse
31. Man Will Destroy Himself - Empty
32. Total Fucking Destruction - Human Is the Bastard
33. Total Fucking Destruction - In the Process of Correcting Thinking Errors
34. Total Fucking Destruction - Welcome to the Fascist Corporate Wastelands of America, Part One
35. Chainsaw to the Face - Hating Life
36. Chainsaw to the Face - Skewered
37. Chainsaw to the Face - Burnt To Death
38. Chainsaw to the Face - Ripped in Half
39. Magrudergrind - Inevitable Progression
40. Magrudergrind - Heavy Bombing
41. Magrudergrind - Burden
42. Brutal Truth - Forever in a Daze
43. Brutal Truth - You Should Know Better
44. Brutal Truth - Dogs of War
45. Brutal Truth - Turmoil
46. ASRA - Chytridiomycosis
47. ASRA - Cancer
48. ASRA - Pig Squealer
49. Wasteoid - Drink in Hand
50. Wasteoid - Bangover
51. Wasteoid - Handcuffed and Fucked