Astral Kingdom - Into The Fire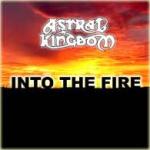 Soms zou ik bands heel graag tegen zichzelf in bescherming willen nemen door geen recensie te schrijven voor de demo's die wij hier dagelijks binnen krijgen. Into The Fire valt hier helemaal onder: ongeïnspireerde power metal met matige vocalen (die nog het meest doen denken aan ex-Helloween's Michael Kiske), saaie ritmepartijen, nog minder interessante gitaar en keyboard melodieën en teksten die weinig te vertellen hebben.

Dit zijn de momenten waarop je zo'n review graag alleen tot de band zou richten om zo de bandnaam nog even voor het publiek verborgen te houden. Als ik dit zou doen zou Astral Kingdom zich nog even in de anonimiteit kunnen schuilhouden om later terug te komen met een sterk product wat in ieder geval het presenteren waard is. Into The Fire is dit gewoon niet. De snellere songs zelf missen kracht waar ze krachtig dienen te zien, de metal anthem klinkt niet stoer maar grappig terwijl de ballad bijna pathetisch aandoet met zijn jaren 80 kwijltekst.

Ik houd er niet van bands af te kraken en hoop dan ook ten zeerste dat Astral Kingdom zich ooit nog revancheert met een album waar ik stijl van achterover zal slaan. Tot die tijd blijf ik de band echter als een zeer ondermaatse power metal band zien.

Tracklist
1. Son Of The Stars
2. For The Damned
3. Into The Fire
4. For Eternity
Reviewer: Lennert
Toegevoegd: 28 maart 2008
Meer Astral Kingdom: