Witchsmeller Pursuivant - Manifest Of Evil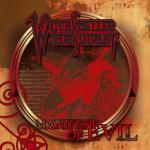 De Belgische formatie Witchsmeller Pursuivant heeft zich vernoemd naar een hilarische aflevering van Blackadder. Aangezien dat mijn favoriete tv-serie is, heeft de band op voorhand een streepje voor op de concurrentie. Hoewel ik mijn best doe om
Manifest Of Evil
geweldig te vinden, slaagt de langspeler er echter niet in om mijn aanvankelijke enthousiasme langdurig in stand te houden.
In tegenstelling tot wat de naam doet vermoeden, is Witchsmeller Pursuivant geen komisch gezelschap à la Nanowar Of Steel, maar neemt men de muziek en teksten wel degelijk serieus. De traditionele heavy metal roept herinneringen op aan de New Wave Of British Heavy Metal. Het beste nummer is het lange Machine Made Mary, al balanceert de Iron Maiden-verering tijdens het instrumentale gedeelte op de rand van plagiaat.
Voor de overige songs zijn de uitdrukkingen degelijk en onorigineel op zijn plaats. De muziek is onderhoudend, de teksten zijn aardig en de zang is behoorlijk, maar begin jaren tachtig zijn talloze gelijksoortige albums uitgebracht van dit niveau of beter. Aangezien het vorige album Enter Delirium uit 2001 dateert, had ik gehoopt dat het vijftal in de tussenliggende jaren een flink aantal krakers zou hebben geschreven. Manifest Of Evil ontstijgt de middelmaat daarentegen nauwelijks.
Tracklist:
1. In The Sweat Of Thy Face
2. Heavy As Fuck
3. Evil People
4. Feel/Know/Fear
5. Machine Made Mary
6. Disciple Of Death
7. One Hundred Percent Scar Tissue
8. The Deadly Shape Of Clouds
Score: 69 / 100

Reviewer: Gilbert
Toegevoegd: 22 maart 2008
Meer Witchsmeller Pursuivant: