Sapiens End - To Be Raped Amongst Zombies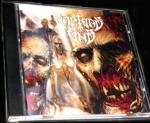 Onder het zeespiegelniveau is de bodem inzake deathmetal bijzonder vruchtbaar, zo is de afgelopen jaren wel gebleken. Hoewel meer dan de helft van ons landoppervlak in feite verzuipt, houden steeds meer een meer bands het hoofd boven water. Voor Sapiens End lijkt het watertrappelen nu ook eindelijk te zijn afgelopen. Na een stroeve start met de nodige line-up wisselingen klimt de band met de demo
To Be Raped Amongst Zombies
op de welverdiende droge kluit.
Nu veel gevestigde namen uit de kadaverindustrie de smaak van nuance en een frisse twist te pakken hebben, neemt Sapiens End de vlag stilletjes over. De honger naar rottende ingewanden is daar nog lang niet gestild en zo doet de klassiek lompe deathmetal het bloed weer ouderwets opspatten. Dit is deathmetal waar deathmetal ooit zo controversieel mee is geworden. Bruut gebeuk, massief geluid, een log dreunende bas en uiteraard ziekelijk strotgeweld, in het geval van Sapiens End goed voor een interactie tussen de onmisbare putgrunt en een verkouden speenvarken. No nonsense deathmetal van de eerste uren.
To Be Raped Amongst Zombies neemt u, dankzij de strakke aaneenschakeling van de traditionele ingrediënten, succesvol mee naar de roots van de brute death en ook de nostalgische zombies rukken weer op. Met de zes demotracks verzorgt de band een uitstekend buffet van kannibalistische amuses, kortom, op muzikaal vlak zit het allemaal wel goed. Let the killing begin!
Tracklist:
1. Ripped Into Pieces
2. To Be Raped Amongst Zombies
3. Hidiously Deformed
4. Skin Turning Blue
5. Basement Filled With Limbs
6. Chronicles Of Mutilation
7. Ripped Into Pieces (videotrack)
Reviewer: Lana
Toegevoegd: 28 februari 2008
Sapiens End - To Be Raped Amongst Zombies
Reactie van Een Metalfan op 29-02-2008 om 20:32u

Hooft, moet hoofd wezen.