Forlorn Suffering - Black Incisions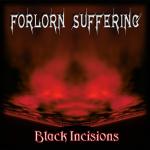 Forlorn Suffering is een uit Australië afkomstige band die bewijst dat er meer uit het land van Crocodile Dundee komt dan rock 'n roll à la AC/DC en snoeihard beukwerk in de vorm van Deströyer 666 en Bestial Warlust. Forlorn Suffering speelt een mengeling van melodieuze, met veel keyboards onderlegde, black metal en melancholische doom.
Deze mix zorgt bij mij voor een dubbel gevoel bij het luisteren naar de EP Black Incisions (die overigens met een half uur langer is dan de meeste bands ons voorschotelen). Het doom gedeelte is namelijk lekker zwaarmoedig en toch vol met schoonheid. Ook zijn hierbij de langzame pianopassages bij vlagen erg mooi. Het zou fijn geweest zijn als ze dit de hele cd vol hadden gehouden, want met het black metal gedeelte stelt mij toch teleur. Gitaar- en zangtechnisch klinkt Forlorn Suffering hier namelijk als een band die dolenthousiast is geweest over Cruelty And The Beast van Cradle Of Filth en toen heeft besloten iets soortgelijks te maken. De invloed ligt er mijns inziens gewoon veel te dik op, maar haalt het uiteraard niet bij het origineel.
Forlorn Suffering is daarmee een band die zeker kan spelen (hoewel de drums wel iets meer mogen beuken en het nu soms wat dreutelig klinkt) en het ook in zich heeft om goede composities te maken. Alleen zou ik het fijn vinden als men zich op het doom gedeelte concentreert en het Cradle Of Filth gedeelte in de ijskast zet.
Tracklist:
1. Black Incisions
2. Into Endless Dream
3. Within The Ashes Of Life
4. Rite Of Darkness
5. Severance

Score: 69 / 100

Reviewer: Jan
Toegevoegd: 16 september 2007
Meer Forlorn Suffering: