various - Our Impact Will Be Felt - A Tribute to Sick Of It All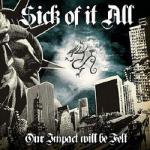 Sick Of It All, de meest invloedrijke hardcoreband aller tijden, bestond vorig jaar 20 jaar. Zonder deze legendarische New Yorkers hadden vele hedendaagse hardcorebands waarschijnlijk nooit het levenslicht gezien. Century Media heeft een waar leger aan gerenommeerde bands laten aanrukken en allen een SOIA-nummer op laten nemen om zo Lou, Pete, Craig en Armand te eren.
Our Impact Will Be Felt – A Tribute To Sick Of It All
is het resultaat.
De bands die op Our Impact Will Be Felt een nummer vertolken zijn niet de minsten. Sterker nog, sommigen zijn zelf inmiddels legendarisch. Wat te denken van Hatebreed, Madball, Ignite, Sepultura en Napalm Death?
Het leuke van dit schijfje is dat sommige bands redelijk in de buurt komen van het origineel, terwijl anderen juist een heel eigen draai aan hun gekozen nummer geven. Zo verschilt Comeback Kids versie van Step Down niet eens zo veel van het oorspronkelijke nummer en hetzelfde geldt voor Scratch The Surface dat door Sepultura onder handen werd genomen. Himsa daarentegen verbouwt Maladjusted tot een hele aardige death/thrash-song.
Ook minder bekende, maar talentvolle bands als No Redeeming Social Value, Bane en Suicide Machines zijn op deze tribute-cd, terug te horen en zo is Our Impact Will Be Felt niet alleen een volledig, maar bovenal waardig eerbetoon aan Sick Of It All.
Tracklist:
1. Rise Against - Built To Last
2. Unearth - Clobberin Time/What's Going On
3. Hatebreed - Ratpack
4. Madball - Give Respect
5. Bleeding Through - The Truth
6. Comeback Kid - Step Down
7. Ignite - Cease Fire
8. Bouncing Souls - Good Looking Out
9. Pennywise - My Life
10. Kill Your Idols - Friends Like You
11. Sepultura - Scratch The Surface
12. Himsa - Maladjusted
13. Most Precious Blood - Alone
14. First Blood - Just Look Around
15. Stretch Arm Strong - Busted
16. Walls Of Jericho - Us Vs. Them
17. Suicide Machines - Goatless
18. Bane - We Stand Alone
19. No Redeeming Social Value - World Full Of Hate
20. Napalm Death - Who Sets The Rules
Reviewer: Edo
Toegevoegd: 15 mei 2007
Reactie van Thijs op 15-05-2007 om 17:39u
Score:
85
/ 100
Dit is echt een leuke cd, vooral omdat er bands op staan die ik niet had verwacht (zoals Napalm Death en Sepultura). Er staan bovendien ook nog eens de betere nummers van SOIA op. :-)