Mindscan - Diagnosis EP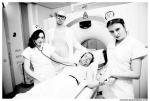 Het Rotterdamse Mindscan heeft duidelijk hard gewerkt aan deze demo. De songs zitten goed in elkaar en de productie is opvallend aardig voor een eerste worp. Ze halen hun inspiratie naar eigen zeggen vooral bij System Of A Down, Caliban en het furieuze gezelschap Walls Of Jericho. En daar kan ik het wel eens mee worden.
Het gitaarwerk refereert zowel naar brutale metalcore, melodieuze emorock, alsook naar Zweedse neothrashbands. De grote kracht van het geluid van Mindscan is dat het ondanks de geïmplementeerde cleane zanglijnen (drie zangstemmen) het geheel toch niet soft klinkt in tegenstelling tot bijvoorbeeld de laatste Caliban schijf. De gitaarmuur beukt er namelijk af toe heerlijk op los en de grunts weten ook te overtuigen. Niet slecht voor een band die nog maar een half jaar bestaat.
Wellicht dat het kwartet ook visueel weet te overtuigen want de helft van de band heeft borsten en dat is altijd aangenaam om te aanschouwen. Beschuldig mij nu niet van seksisme, een man kijkt nog altijd liever naar een podium met een mooie vrouw dan naar een stel bezwete mannen. Niettemin is de de "Diagnosis EP" een aangename kennismaking. Nog een laatste opbouwend kritiekpuntje: de cleane vocalen kunnen wel nog wat zuiverder.
Tracklist:
1. Perception Of Existence
2. My Ending Theme
3. Patriot Ideals
4. My Own Sickness
5. No Entrance
Reviewer: Kristof
Toegevoegd: 17 mei 2006
Reactie van mandy en tamara op 17-05-2006 om 13:59u
Hey yow! Thanx voor de veren! Als je benieuwd bent naar of we visueel ook overtuigend zijn kom ons dan eens live checken! Groeten van Mindscan :) Releasepary 27 mei in Nighttown Rotterdam.... Metropolis Rotterdam: 2 juli...
Reactie van Marcus op 19-05-2006 om 08:38u
Score:
90
/ 100
Goeie shit!
Reactie van cecilia wubben op 10-06-2007 om 15:42u
Score:
10
/ 100
julie zijn egt stoer en gaaf man mindscan rulezzzz
rocks,cecilia
Reactie van cecilia wubben op 10-06-2007 om 15:42u
Score:
10
/ 100
julie zijn egt stoer en gaaf man mindscan rulezzzz
rocks,cecilia