various - MTV2's Headbanger's Ball: The Revenge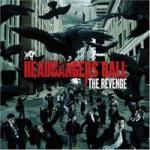 Het bedenken van een originele intro bij een review kan lastig zijn. Vooral bij dit soort verzamel-cd's, want het eerste wat in me op kwam was namelijk precies hetzelfde als wat ik zo'n anderhalf jaar terug schreef over
MTV Headbanger's Ball vol. 2
: de jonge metalheads kennen dit tv programma alleen van naam, maar hebben het nooit op tv gezien. Misschien dat het tegenwoordig op MTV2 is, als je digitale tv hebt, maar goed daar kan ik niet over meepraten. Op deze cd staat in ieder geval ook MTV2, het wat alternatieve broertje van de normale MTV.
We zijn nu dus beland bij een nieuwe verzamel-cd, getiteld MTV2's Headbanger's Ball: The Revenge. De overeenkomsten met die andere cd die ik net noemde zijn groot. Weer twee cd's, weer ongeveer veertig nummers, weer Slipknot en Korn als eerste twee bands, weer veel Roadrunner bands (wat logisch is, want zij brengen de cd uit), en weer voornamelijk nummers van bands die het afgelopen jaar toch zeker sterke albums hebben uitgebracht. Weinig echt recent materiaal, en sommig is zelfs al twee jaar oud.
Toch staat er ook wel wat nieuws op. Van bijvoorbeeld 36 Crazyfists, Walls Of Jericho, Kingdom Of Sorrow en Hatebreed staan er nog niet uitgebrachte nummers op. Wat dan weer jammer is, is dat er van Black Label Society een oud nummer op staat, terwijl de band deze zomer met een nieuwe cd komt. Een gemiste kans om alvast wat te laten horen.
Om af te sluiten pak ik dezelfde alinea als vorige keer erbij, want die geldt ook voor deze cd:
Dit soort verzamel-cd's zijn leuk voor mensen die wat nieuwe bands willen leren kennen, maar aangezien er weinig echt onbekende bands op staan weet je meestal toch wel al ongeveer wat je krijgt.
CD 1:
1. Slipknot - Before I Forget
2. Korn - Liar
3. Soulfly - Carved Inside
4. Hatebreed - To The Threshold
5. Mudvayne - Forget To Remember
6. Avenged Sevenfold - Burn It Down
7. HIM - Vampire Heart
8. Trivium - A Gunshot To The Head Of Trepidation
9. Lamb Of God - Now You've Got Something To Die For (live)
10. 10 Years - Wasteland
11. Disturbed - Guarded
12. As I Lay Dying - Through Struggle
13. Lacuna Coil - Our Truth
14. Underoath - It's Dangerous Business Walking Out Your Front Door
15. Mastodon - Blood & Thunder
16. Killswitch Engage - A Bid Farewell (live)
17. Black Label Society - In This River
18. Bleeding Through - Kill To Believe
19. In Flames - Take This Life
CD 2:
1. Chimaira - Nothing Remains
2. Bullet For My Valentine - SuffocatingUnder Words Of Sorrow (What Can I Do)
3. Arch Enemy - Nemesis
4. It Dies Today - Severed Ties Yield Severed Heads
5. Opeth - The Grand Conjuration (edit)
6. Norma Jean - Liarsenic
7. DevilDriver - Hold Back The Day
8. Still Remains - The Worst Is Yet To Come
9. God Forbid - The End Of The World
10. Throwdown - Burn
11. From First To Last - The Latest Plague
12. 36 Crazyfists - I'll Go Until My Heart Stops
13. Behemoth - Slaves Shall Serve
14. A Life Once Lost - Vulture
15. High On Fire - Devilution
16. Bloodsimple - Sell Me Out
17. Haste The Day - When Everything Falls
18. Walls Of Jericho - A Trigger Full Of Promises
19. Kingdom Of Sorrow - Buried In Black
Reviewer: Tonnie
Toegevoegd: 12 april 2006
various - MTV2's Headbanger's Ball: The Revenge
Reactie van benj op 12-04-2006 om 12:37u

lijkt me wel een aardige cd op doe rotzooi zoals Korn en HIM na..
various - MTV2's Headbanger's Ball: The Revenge
Reactie van Metalkev op 14-04-2006 om 22:33u
Score: 90 / 100
goeie cd behalve Korn en Him!!!!!!!!!!!!!!!!!!!!!!!!
various - MTV2's Headbanger's Ball: The Revenge
Reactie van Lange Tim op 21-04-2006 om 18:35u
Score: 80 / 100
Ik meende te lezen in de platenzaak dat hij voor een gunstige prijs te krijgen was, maar 19,95 lijkt mij toch een normale (lees; te hoge) prijs. geen idee of dat nu aan mijn platenzaak ligt of aan de mensen bij MTV. Verder lijkt het mij een fijne CD. En over Him enzo: hou er wel rekening mee dat het van MTV afkomstig is, het walhalla voor 14 jarige