various - Just Like Paradise: A Millenium Tribute To David Lee Roth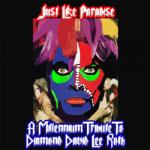 David Lee Roth is in elk opzicht een echte rockster. Hij vertoefde uren voor de spiegel, liet zich verzorgen door make-up artists, personal trainers en allerhande andere hulpjes. Hij zoop je ook onder tafel, en schaamde zich er niet over om je kleine zusje te versieren én daarna je moeder in bed te lullen. Maar vooral is hij een extravagante zanger die over een herkenbare krachtige stem beschikt én er op het podium stond. Nouja het werkwoord'staan' moet je ruim interpreteren: hij sprong van her naar der met atletische bravoure.
Tegenwoordig wordt elke band al geëerd die ooit één album opnam, dus onze Dave verdiend zeker een tribute. Leden van onder andere Poison, Enuff Znuff, Dokken, Riot, Watchtower, Lynch Mob, TNT en Aerosmith kozen om zowel songs van Van Halen als van zijn solocarrière te coveren. De meeste zangers komen aardig weg met een prestatie en het aanwezige legertje gitaristen maakt indruk met de gitaarsolo's van Eddie Van Halen en Steve Vai zo correct mogelijk na te spelen. De beste prestatie komt overigens van de geniale Van halen coverband Hot For Teacher en de slechtste van Chris Heaven die een enkeltje naar de hel verdiend met zijn verkrachting van "Dance The Night Away".
Maar toch blijf ik enkele vraagtekens bij dit album hebben. Ten eerste verscheen de helft van deze plaat al op andere omslachtige tributes van dezelfde platenmaatschappij zoals "A Tribute To Van Halen's Roth & Hagar" en "A Tribute To Vai/Satriani". Ten tweede is de songkeuze toch wel onevenwichtig en ten derde ontgaat het nut me van dit weliswaar goed uitvoerde cd'tje. Dit jaar komen er van ook nog Millenium Tributes aan van onder andere Guns 'N Roses en Def Leppard. Een gewaarschuwd man telt voor twee.
Tracklist:
1. Just Like Paradise - Derrick Lefevre/Marko Pukkila
2. Dance The Night Away - Chris Heaven
3. Panama - Jimmy Crespo/Richard Kendrick
4. Tobacco Road - Corey Craven
5. Yankee Rose - Enuff Z' Nuff
6. Hot For Teacher - Hot For Teacher
7. Shy Boy - George Lynch/Tony Harnell/Jason McMaster
8. Just A Gigalo - The Slashtones/Tony Moore/Arno Hecht
9. Take Your Whiskey Home - American Dog
10. And The Cradle Will Rock - Marko Pukkila/Rowan Robertson
11. Goin' Crazy - Chris Catena/Blues Saraceno
12. Ain't Talkin' Bout Love - Jet Black Joy

Score: 62 / 100

Reviewer: Kristof
Toegevoegd: 8 april 2006