My Girlfriend Is My Weapon - Moyra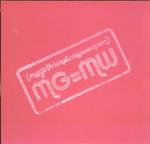 Je zult je band maar My Girlfriend Is My Weapon dopen. Zijn hun vriendinnen allen Hyacinth Bucket (uitgesproken 'Bouquet') types? Hebben ze karate gevolgd? Zijn ze zo aantrekkelijk dat andere mannetjessoorten geen ruzie meer zoeken, maar respect hebben voor hen? Ik weet het echt niet, behalve dat MG=MW ons graag op het verkeerde been zet.
Op deze demo worden verschillende soorten harde muziekstijlen gemixt en dat komt lekker chaotisch over. Ze refereren onder andere aan A Life Once Lost, Curl Up An Die en Everytime I Die. De acht minuten staan bol van breaks, groovy refreinen, geschreeuw, blastbeats en doen ons ook wel eens denken aan het nieuwere hardcore geluid. Niet slecht, niet slecht.
Dat alles verpakt in een roze outfit en voor de prijs van vijf Suzy wafels te koop. Een score ontbreekt omdat het plaatje te kort is om een cijfer op te plakken. En dat is dan ook, samen met de nog wat té voorspelbare composities en ietwat té vlakke productie, het belangrijkste kritiekpunt.
Tracklist:
1. Didi Better Watch Her Back?
2. Funky Is My Middle Name, Baby!
3. The Ark Of Toby G.

Reviewer: Kristof
Toegevoegd: 9 maart 2006
Meer My Girlfriend Is My Weapon: